Revere 4-Person Offshore Commander 3.0 Life Raft - Valise - 45-OC3-4V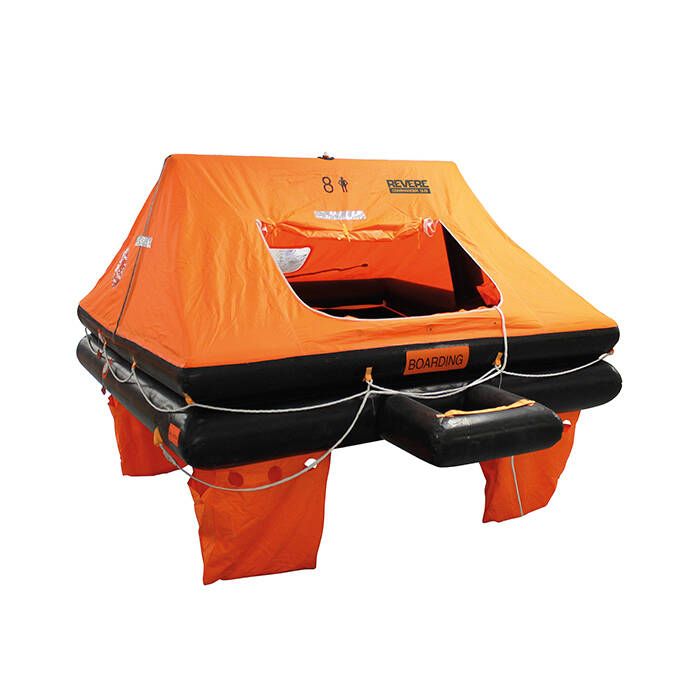 Revere 4-Person Offshore Commander 3.0 Life Raft - Valise - 45-OC3-4V
Item # 879204
Description
Revere's 4 person, Offshore Commander 3.0 is an economical and safe life raft, that provides the same durable quality as the Coastal Commander, yet is suitable for offshore boating. Intended for the toughest conditions, the Offshore Commander 3.0 is built to allow self-sufficient survival for extended periods of time and includes an extensive list of safety equipment.
Features:
Highly visible, self-erecting orange canopy with retro-reflective tape
Stored in a valise
Exterior signaling / locator light
Inflatable boarding ramp
Righting line on floor bottom
Weatherproof, double zippered door for easy access on board
Rear rainwater collection system
Insulated floor for protection from hypothermia
Adhesive bonded and taped seams, inside and out
Internal and external safety lines for increased safety
4 View points for a combined 360° view
Vacuum packed for protection against the elements
Rugged twin, 9-inch diameter neoprene coated polyester tubes and floor fabric
4 Ballast bags with fast deploying weights
Two pressure relief valves that release excess inflation gases and prevents the raft from over-inflation
Equipment pack complete with offshore equipment
Easy to transport with weatherproof valise

Perfect for when there is not enough room to mount a container

4 Person capacity with 4+ square feet per passenger
12-Year limited warranty on all Revere Commanders™ valid only with:

Required 3-year service intervals
Service performed by Revere Survival - certified service stations
Proper installation and use in accordance with Revere Owner's Manual
Warranty registration
Specifications:
Application / intended use: Offshore
Maximum capacity: 4 People
Floor space per person: 4+ sq. ft.
Raft color: Orange / black
Pack type: Valise

Packed dimensions: 26" L x 17" W x 11" H
Weight: 71 lbs.
In the Box:
Offshore Commander 3.0 life raft
Valise
Equipment pack

Sea anchor and 100 ft. tow line
Floating rescue ring and 100 ft. line
Floating raft knife
36 ft. Painter line
(2) USCG/SOLAS approved red hand flares
USCG approved parachute rocket
Hand pump
Whistle
Signal mirror
Repair kit
First aid kit
(2) Wooden paddles
Bailing bucket
Seasick bags
Seasick tablets
Floating flashlight
Spare flashlight batteries
(2) Sponges
Drinking water
Instruction handbook
Revere Offshore Commander 3.0 Life Raft Product Datasheet
Part Numbers for Revere 4-Person Offshore Commander 3.0 Life Raft - Valise - 45-OC3-4V