Raymarine i70s Wireless Wind Package - T120 Tx, Thru Hull Tx, Heading Sensor - T70348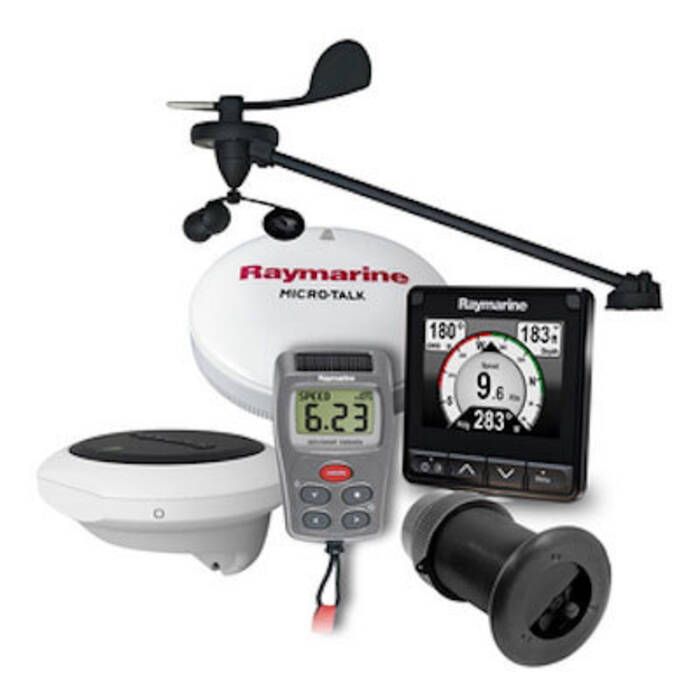 Raymarine i70s Wireless Wind Package - T120 Tx, Thru Hull Tx, Heading Sensor - T70348
Item # 878911
Description
The Raymarine T70348 (North America, Australia and New Zealand) is Raymarine's premium instrument system-in-a-box kit.
General Package Features:
Features the i70s Multifunction Color Instrument, the Micro-Talk™ Wireless Performance Sailing Gateway, a wireless wind system, EV1 Heading Sensor, as well as depth, speed and temperature sensing
All of the cables and connectors needed to establish a basic SeaTalk ng network are included in the kit
The included Micro-Talk™ Wireless Performance Sailing Gateway communicates directly to the kit's T120 Wireless masthead transducer for precise wind speed and direction
The system also includes the Airmar DST800 through-hull transducer for depth, speed, log and water temperature functions
All of this data can be displayed on the included i70s multifunction color instrument and the Multifunction Wireless Remote Control
Also included is Raymarine's award-winning EV1 Evolution Heading Sensor
The EV1 is entirely self-calibrating and measures the movement of the boat with is 9-axis sensor system
With its built-in Evolution R4 software, the EV1 further refines the values for wind speed, wind direction, course over ground, speed over ground and cross track error by calculating out the detrimental effects of vessel yaw, pitch, roll and heel on these values
It also provides an ultra-stable heading source for other onboard electronics including autopilots, radar systems, chart plotters and instruments
The system can easily be expanded as needed from Raymarine's extensive line of wired and wireless instruments, sensors, multifunction displays and autopilots
MicroTalk Wireless Gateway Features:
Raymarine's MicroTalk Wireless Performance Sailing Gateway joins together wired and wireless instrument systems enabling performance-minded sailors to achieve a new level of wind monitoring
The compact and waterproof Micro-Talk Gateway can be mounted anywhere on-board
Plugs into SeaTalk ng network
MicroTalk allows high speed transmission of data between Raymarine wireless Micronet compatible devices and wired Raymarine SeaTalk ng compatible devices and autopilots
Sharing data such as:

Wind angle
Wind speed
Depth
Boat speed
Temperature
Heading
GPS data
Time and date
Navigation information

The Micro-Talk Gateway allows you the flexibility and customization to mix-and-match any combination of wired or wireless Raymarine instruments, transducers, MFDs and autopilots, whether building a new system from scratch, or expanding an existing system
Wireless Wind Options for Raymarine Instrument Systems:

The Micro-Talk Gateway allows you to take advantage of the enhanced accuracy and installation convenience offered by Raymarine's wireless, solar-powered wind transmitter options
You can use these ultra-lightweight and highly accurate sensors with Raymarine i60, i70 and i70s Instrument systems (Sold Separately)
When used with the optional Raymarine Wireless Mast Rotation Sensor (Sold Separately), the system can also provide ultra-precise wind information onboard sailing craft, such as winged sailboats, with the mast rotation angle being transmitted to Raymarine MFDs

Hard-core racers can add an Optional Raymarine Wireless Maxi display (Sold Separately) to the system and experience the benefits of automatic airflow correction
Adding an Optional Raymarine's EV1 sensor (Sold Separately), Micro-Talk will compensate for vessel movement allowing for even greater precision
Raymarine's patented algorithms will automatically compensate wind speed and direction values to eliminate inaccuracy from sail updraft and mast heel angle
T113 Wireless Remote Display Features:
Palm-sized wireless multifunction remote display repeats, configures and controls the data you need to improve performance
Functions include:

Wind trends
Speed trends
VMG to wind and waypoint
SOG
COG
Performance graphing
Race timer

Self-powered: Solar powered with integrated lithium batteries that power the unit for life; power consumption is so efficient that unit can run autonomously for up to 300 hours / (7) nights at full backlighting
Completely waterproof: unit is sealed for life and submersible to 33' / 10 m
Backlighting to (3) levels
Add handsets for key crewmembers
2-Year limited warranty (upgradable to 3 years upon product registration within 90 days of purchase)
i70s Features:
The i70s multifunction gives you the flexibility to display instrument and navigation data that is most important to you
Equipped with a bold and bright 4.1" display the i70s
Easy-to-customize with digital, analog and graphical displays of depth, speed, wind and more

From traditional analog dials to engine information and tank levels, i70s has the capabilities to show it all
Combine the i70s with the ITC-5 instrument transducer convertor (Sold Separately) and connect to analog depth, speed, and wind sensors

Add the i70s to your existing Raymarine instrument system or create a network of i70s displays and sensors
4.1" super bright oversized LCD for maximum visibility
All weather optically bonded display technology delivers brighter colors, sharper contrast, and a wide viewing angle
New glass bridge industrial design compliments Raymarine eS and gS Series multifunction displays
Simple user interface with sculpted rubber keypad for precise operation in all conditions
SeaTalk ng networking for seamless connectivity to Raymarine systems and NMEA2000 networks
Raymarine i70s allows for connectivity to the following on board networks:

First generation SeaTalk networks using a SeaTalk to SeaTalk ng adapter cable
Current generation SeaTalk ng networks
NMEA2000 networks using a SeaTalk ng to DeviceNet adaptor (a DeviceNet to SeaTalk ng adaptor is required for connecting the i70s to NMEA2000 backbone (Sold Separately))
In addition to flexible networking capability the i70s features user-selectable data sources, for integration with multi-sensor networks

NMEA2000 connectivity for engine, environment fuel and navigation data
Network the i70s with Airmar DST800 transducers and the new in-hull P70s smart transducer
Supplied with both black (eS Series style) & (e Series style) gunmetal bezels and protective Suncover
Intuitive LightHouse User Interface

The i70s places frequently used navigation functions right at your fingertips
The LightHouse instrument interface is consistent with Raymarine LightHouse multifunction displays, so Raymarine MFD users will feel right at home with the i70s

AIS Repeater

Display AIS targets from NMEA 2000 AIS receivers (Sold Separately)
View the closest 25 AIS-equipped vessels and select individual targets to obtain vessel information

Transducer Connectivity

Pair i70s instruments with the innovative iTC-5 instrument transducer converter for seamless integration with analog depth, wind, speed, compass and rudder transducer
Alternatively, you can network the i70s to DST800 and p79s Airmar smart transducers
EV1 Features:
Precision monitoring of heading, pitch, roll, and yaw: Allows the autopilot to evolve instantly as sea conditions and vessel dynamics change
Flexible installation options: Mount above or below your deck
Simple SeaTalk ng connectivity to the control head and ACU
Solid state sensor technology delivers dynamic accuracy to within 2 degrees in all conditions
Auto-compensation for on board magnetic fields and reliable heading accuracy in the northern and southern extremes
Fast and reliable heading data for MARPA, radar overlay, and heading modes on Raymarine multifunction displays
Micro-Talk Specifications:
Nominal Voltage: 12 Volt DC (Supplied by SeaTalk ng)
Voltage Range: 9 Volt DC to 16 Volt DC (protected up to 32 Volt DC)
Power Consumption: 25 mA at nominal supply voltage
Mounting method: Surface mount
Operating Temperature: -20° C to +55° C (-4° F to 131° F)
Storage Temperature: -30° C to +70° C (-22° F to 158° F)
Relative Humidity and Waterproofing max 93%. IPX6 IPX7
Supported connection protocols SeaTalk ng/ NMEA 2000 (via DeviceNet adaptor) Micronet (wireless)
T113 Wireless Remote Display Specifications:
Display: Full-function multi-line dot matrix display with 0.63" digits, (3) levels of backlighting
Power: Solar / lithium batteries
Water Protection: Submersible to 33' / 10 m
i70s Specifications:
Nominal Voltage 12 V dc
Voltage Range 9 to 16 V dc
Power Consumption 1.7 Watts
Mounting method Surface mount
LCD Brightness 1,200cd/m2
Display 4.1" TFT LCD 16 bit color (64K colors) 320 x 240 pixels
Color palettes Four color palettes- two day, inverse and red/black
Operating Temperature -20#176; to 55#176; (-4#176; F to 131#176; F)
Storage Temperature -30#176; to 70#176; (-22#176; F to 158#176; F)
Relative Humidity 93% max
Waterproofing IPX6 / IPX7
Connections (1) SeaTalk ng connector
EV1 Specifications:
Nominal Supply Voltage (volts DC) 12 Volt DC systems
Operating Voltage Range (volts DC) 10.8 – 15.6 Volts DC
Power Consumption 30 mA
SeaTalk ng LEN 1
Sensors 3-Axis digital
Data Connections SeaTalk ng
Operating Temperature -20° C to +55° C
Storage Temperature -30° C to +70° C
Relative Humidity max 93%
Waterproof Rating IPX 6
Diameter: 140 mm
Depth (Including mounting enclosure): 35 mm
Depth (Including wall bracket: 95 mm
In the Box:
E70361 Micro-Talk™ Wireless Performance Sailing Gateway with 3m Spur Cable
T120 Wireless Masthead Transducer
T113 Multifunction Wireless Remote Display
E70327 i70s Multifunction Color Instrument Display with 400 mm Spur Cable
E70096 Evolution™ EV1 Heading Sensor
A22111 DST800 Depth, Speed, Temperature Though Hull Transducer
A06049 SeaTalk ng Power Cable
A06036 SeaTalk ng Backbone Cable (5 meters)
A06064 SeaTalk ng 5-Way Block
A06031 SeaTalk ng Network Terminator (x2)
A06028 SeaTalk ng T-Connector
Note: NMEA2000 certification pending. A DeviceNet to SeaTalk ng adaptor is required for connecting the i70s to NMEA2000 backbone.
Part Numbers for Raymarine i70s Wireless Wind Package - T120 Tx, Thru Hull Tx, Heading Sensor - T70348