Power Sonic Rechargeable Lithium Phosphate Battery - PSL-BTP-121250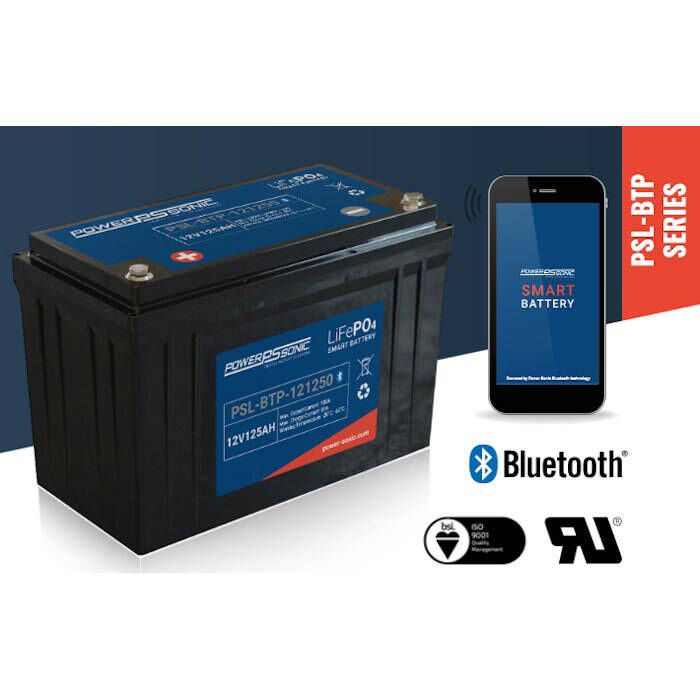 Power Sonic Rechargeable Lithium Phosphate Battery - PSL-BTP-121250
Item # 878051
Description
The Power Sonic PSL-BTP-121250 Rechargeable Lithium Phosphate Battery comes with an intelligent battery management system (BMS) that can monitor and optimize each cell during charge and discharge. This protects the battery from over-charge and over-discharge. The BMS embeds smart balancing algorithms that control all the cells in the battery, making sure they are constantly at the same voltage level.
You are able to monitor the State of Charge (SoC) and State of Health (SoH) of your battery from your phone or tablet.
Features:
Bluetooth communication capability for battery status through Power Sonic app

Bluetooth communication requirements

Phone needs Bluetooth 4.0 BLE (Bluetooth low energy) - Requires Android 4.3+ - Active Distance < 5.0m
Supports iPhone 4S/ 5c /5 /5S /6 / 6plus - Requires IOS 6.0+ - Active Distance < 5.0m

Compact and only 40% of the weight of comparable lead acid batteries
Up to 10 times more cycles than lead acid batteries
Faster charging and lower self-discharge
Delivers twice the power of lead acid batteries, even high discharge rate, while maintaining high energy capacity
Super safe chemistry reducing the risk of explosion or combustion due to high impact, over-charging or short circuit situation
Material: Rugged impact resistant ABS case and cover flame retardant to UL94:V0
Battery Management System (BMS) controls the parameters of the battery to provide optimum safety and performance

BMS enhanced design balances the battery cells and protects against overcharging and discharging

Approvals

U.L Recognized
ISO9001:2015
Specifications:
Size: Approx Group 27 (12.51" L x 6.49" W x 8.46" H)
Nominal Voltage: 12.8V
Rated Capacity: 125.0A Hours
Stored Energy: 960 Wh
Cycle Life (@ DOD100%: ): <2000 cycles
Approximate Weight: 44.1 lbs (9.8kg)
Internal Resistance at 50% SOC: <20.0 milliohms
Max Charge Current: 80A
Max Discharge Current: 100A
Pulse Discharge Current: 350A withstand 3s
Discharge Cut-Off Voltage: 8.0V
Protection/Communication: BMS and Bluetooth
Parallel Connection: Up to 4 packs can be connected in parallel

CAN NOT be connected in series

Operating Temperature Range:

Charge: 32° F (0° C) to 113° F (45° C)
Discharge: -4° F (-20° C) to 140° F (60° C)
Recommended: 59° F (15° C) to 95° F (35° C)

Case: Flame Retardant ABS Plastic UL94:V-0
Self-Discharge Rate:

Residual Capacity 3%/month; <15%/year
Reversible Capacity <1.5%/month; <8%/year
Bluetooth Connection Quick Start
WARNING
---
This product can expose you to chemicals which are known to the State of California to cause cancer, birth defects or other reproductive harm.
For more information go to www.p65warnings.ca.gov.
Part Numbers for Power Sonic Rechargeable Lithium Phosphate Battery - PSL-BTP-121250