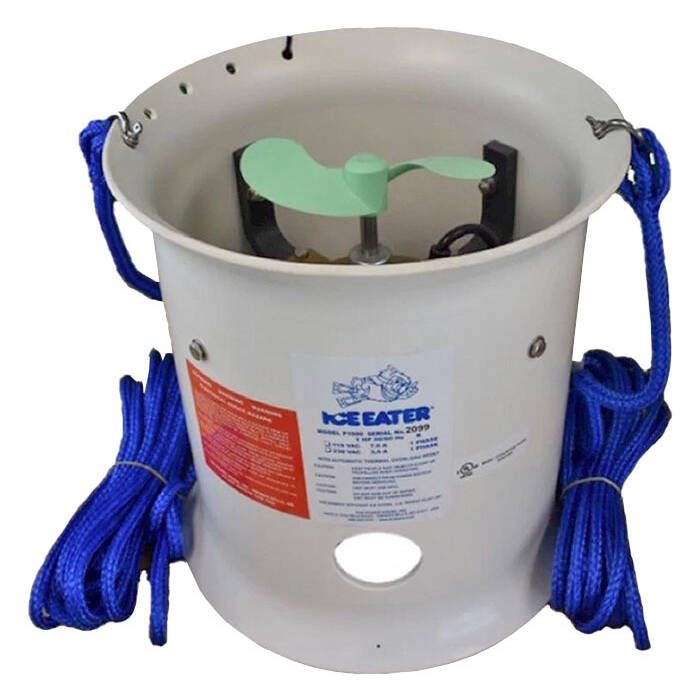 Power House P1000 Ice Eater
Item # 877975
Description
The environmentally friendly Ice Eater P1000 is designed to prevent ice from forming around boats, marinas, docks, and piers as well as effectively melting existing ice by breaking the surface with a continuous current of warmer bottom water.
Features:
Draws up warmer subsurface water and deflects it to the surface creating a constant circulation of warmer water that prevents ice formation
Venturi shroud (housing) design with outwardly flared ends draws warmer water from greater depths than other conventional de-icers
Shroud is submersible below the surface either vertically or angled from vertical
Set of mounting holes at opposed positions on the flange allows the lines to be attached
Shipped complete with suspension lines, can be taken out of the box, hung in place and plugged in
Custom design and engineered for maximum performance
Do not use oil for lubrication

Ice Eaters use an environmentally friendly, synthetic lubricating fluid which is non-toxic, biodegradable and non-bio-accumulating

Agitates more water than any de-icer on the market today
Maximum efficiency in all climatic conditions
Average operating depth of two to three feet
Performance certified tested for proper output and leaks before shipment
Optional thermostat turns Ice Eater on when needed and is ideal for unattended application (sold separately)
(3) Year Limited Warranty
Specifications:
Power: 1 HP
Thrust: 36 lbs @ 7A
Includes a 16/3 water and oil resistant power cord with three prong molded plug
(2) 25 Foot x 3/8" Hollow braided lines with shackles
Motor housing is constructed of 16 gauge 304 stainless steel and bronze end bell for corrosion free operation in fresh or salt water.

Motor exceeds NMEA specifications and is UL and CSA compliant, and C.E. certified
Motor shaft is 316 stainless steel

Permanent split capacitor ensures quick high torque and smooth operation, while producing the highest efficiency of a single phase induction motor.

Motor and capacitor are matched for ultimate performance

Internal, heavy duty, hard faced mechanical seal with stainless components immersed in dielectric lubricating fluid.

Dielectric lubricating fluid is an environmentally friendly synthetic lubricating fluid
Dielectric lubricating fluid is non-toxic
Dielectric lubricating fluid is biodegradable
Dielectric lubricating fluid is non-bio-accumulating

Additional double lip shaft seal for extra protection
Stator motor windings have double impregnation of baked insulating varnish
Two heavy duty ball bearings provide support for the rotor while being cooled with dielectric type oil
Sacrificial custom designed zinc is provided for conditions where electrolysis may be present
Propeller is custom designed for maximum thrust and performance. Propeller screws on shaft for easy removal and replacement
Heavy duty PVC custom brackets that attach motor to shroud. All stainless bolts and locking aircraft nuts are used
Unlike other de-icing units, Ice Eater requires no additional hardware in order to obtain the desired de-icing pattern
Note: Open Dia. based on normal winter conditions
WARNING
---
This product can expose you to chemicals which are known to the State of California to cause cancer, birth defects or other reproductive harm.
For more information go to www.p65warnings.ca.gov.
Part Numbers for Power House P1000 Ice Eater