NGK BP6HS-10 Spark Plug Tohatsu - 970101011M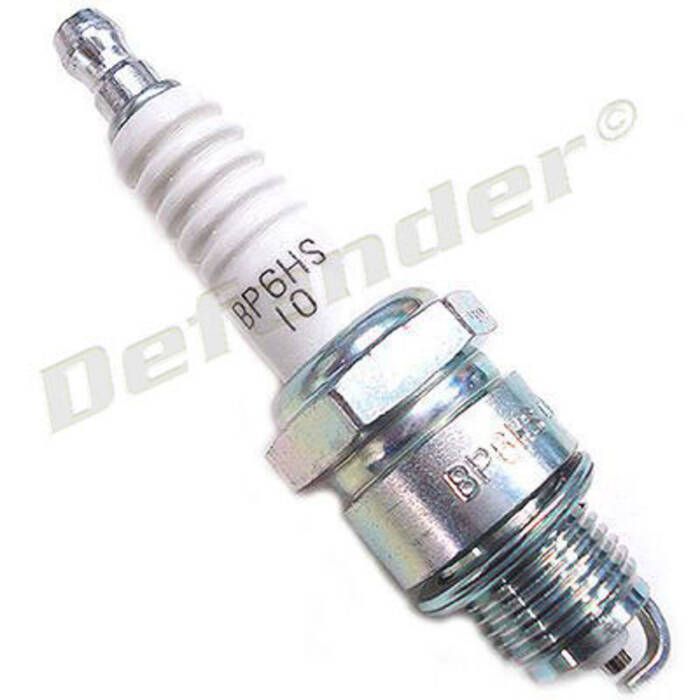 NGK BP6HS-10 Spark Plug Tohatsu - 970101011M
Item # 876448
Description
Features:
The NGK Spark Plug is the workhorse, at the heart of smooth-running engines around the world
OEM Quality
Consistent Performance
Plug of Choice in Millions of Marine Engines
The spark plug insulators are made of 99 percent pure alumina silicate, allowing for longer insulator noses for reduced fouling
Triple-Gasket Sealing Process
This spark plug features a triple gasket sealing process that eliminates fuel leakage
It also includes a solid copper core that provides superior heat dissipation and conductivity
This spark plug has resistor that is produced with a glass and carbon mixture, which is fired to ensure superior performance and durability
It has corrugated ribs that prevent flash over and cold rolled threads to inhibit damage to the cylinder head
Applications:
Tohatsu / Nissan Models 2.5A, 3.5A and 3.5A 2-Stroke Outboards
Mercury 2.2 HP through 3.5 HP 2-Stroke Outboards
Specifications:
Thread diameter: 14 mm
Thread reach: 12.7 mm
Seat type: Flat
Hex size: 21 mm (13/16")
Tip configuration: Projected
Construction: Standard construction
Terminal type: Removable
Cross Reference for NGK BP6HS-10:
AC Delco R43FS
Autolite 4123
Bosch W7BC
Bosch W6BC
Bosch WR7BC+
Champion OE007
Champion L87YC
Champion Stock 312
Denso W20FPU10
Denso W20FP-U10
Denso Stock 6037
General Motors 5613526
Mercruiser 33-12127
Mercruiser 33-312
Motorcraft AE22C
Motorcraft Stock 58
Napa X936
NGK Stock 6326
Suzuki 09482-00264
Yamaha 94701 00232
IMPORTANT: This chart is furnished as a guide only. Certain design differences may exist between this spark plug and another manufacturers and heat ratings can also vary. Always refer to the Manufacturer's application data to select the recommended spark plug for your specific engine
Note: There are more outboard motor applications for this spark plug that are not listed here. See your Owner's Manual to confirm compatibility.
Part Numbers for NGK BP6HS-10 Spark Plug Tohatsu - 970101011M