Navisafe Navilight 360 deg 2NM Portable All-Round Navigation Light - Navisafe-045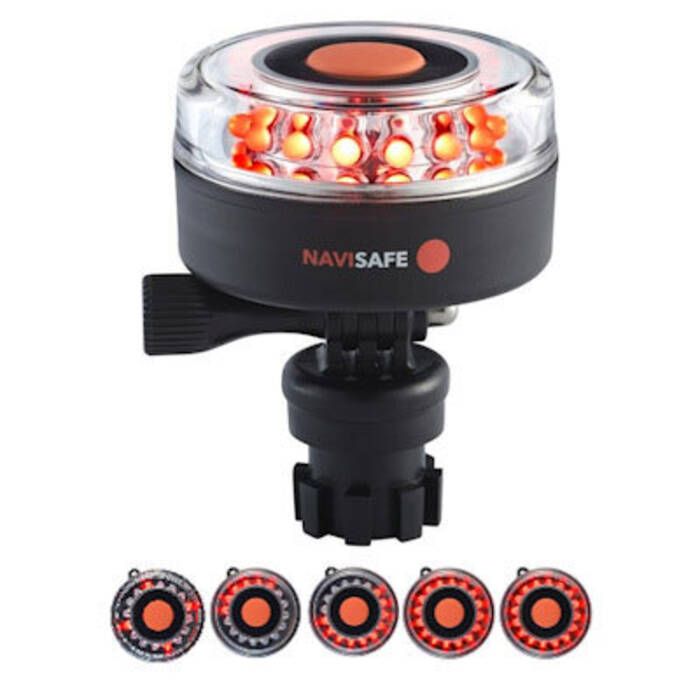 Navisafe Navilight 360 deg 2NM Portable All-Round Navigation Light - Navisafe-045
Item # 876015
Description
Navisafe's Navilight Portable All-Round Navigation Light is a versatile, US Coast Guard light that provides bright 360° red light; perfect for use with compatible Navisafe Navimount systems and many GoPro® / Action camera mounts.
Features:
360° 2NM Portable all-round navigation light
US Coast Guard approved for 2 nautical miles
Most versatile light of Navisafe's range of battery operated portable navigation lights
Super bright red LED light
Attaches almost anywhere with Navimount Base
Light floats light facing up
Submersible to 20 meters
Powered by (3) AAA batteries (Sold separately)
Mounting options:

The double magnetic system consists of the Navilight with its magnetic base, a separate magnetic plate and a screw for attaching the plate to a wooden deck for example
It also holds the light safely on many plastic boats, biminis or any other material by placing the light on top and the magnetic plate underneath
Additionally Navisafe offers a wide range of specially designed magnetic mountings such as the Clamp-on Rail mount, Bendable Suction-mount and the Telescopic Poles that easily allow the lights to be attached
NOTE: If the magnetic mounts are used do not place the separate magnetic plate between the Navilight and the mount. Please always secure the Navilight with the supplied lanyard to the mount (Clamp-on Rail mount, Telescopic Pole) or to something which is securely fixed on the boat if you use the Bendable Suction-mount.
Specifications:
Light color: 360° Red
Power: (3) AAA Batteries (Sold separately)
Dimensions: 35 mm H x 68 mm diameter
USCG Approved
In the Box:
Navisafe Navilight 360° 2NM portable light
Mount (Navimount is compatible with Navisafe Navimount Base (Sold Separately) and many GoPro® / Action camera mounts)
Mounting screw
Note: imperial dimensions are approximate, the manufacturer built this product to metric specs.
Part Numbers for Navisafe Navilight 360 deg 2NM Portable All-Round Navigation Light - Navisafe-045