Mustang Survival Re-Arm Kit I - 33G Hammar Manual - MA3181-0-0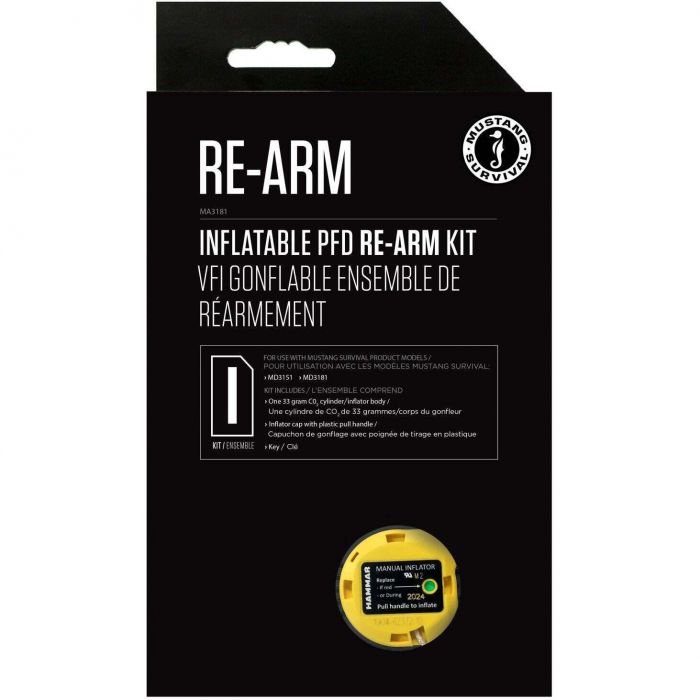 Mustang Survival Re-Arm Kit I - 33G Hammar Manual - MA3181-0-0
Item # 933912
Description
You went with the best when you chose your PFD. Only the best rearm kit will do, and to have a Hammar that's got your back (and front), it's worth it. The Manual Hammar Re-Arm Kit contains everything necessary to re-arm your Mustang Survival Pilot 38 Manual PFD after deployment. Unique technology means unique ways of keeping it working; regular maintenance can reduce the possibility of inadvertent inflation. Refer to your Owner's Manual for maintenance schedule. The Manual Hammar inflator cap and body should be replaced before the expiry date on the cap passes. Use only Mustang Survival re-arm kits.
Included:
(1) 33 g C02 cylinder/inflator body
Inflator cap with plastic pull handle
Metal Key
Re-arming instruction manual
Note: Use only Mustang Survival re-arm kits. Use of other re-arm kits may result in improper operation or failure to operate and will void the product's warranty.
Part Numbers for Mustang Survival Re-Arm Kit I - 33G Hammar Manual - MA3181-0-0