Mustang Survival Inflatable Life Jacket/PFD Replacement Bobbin - MA9210-0-0-205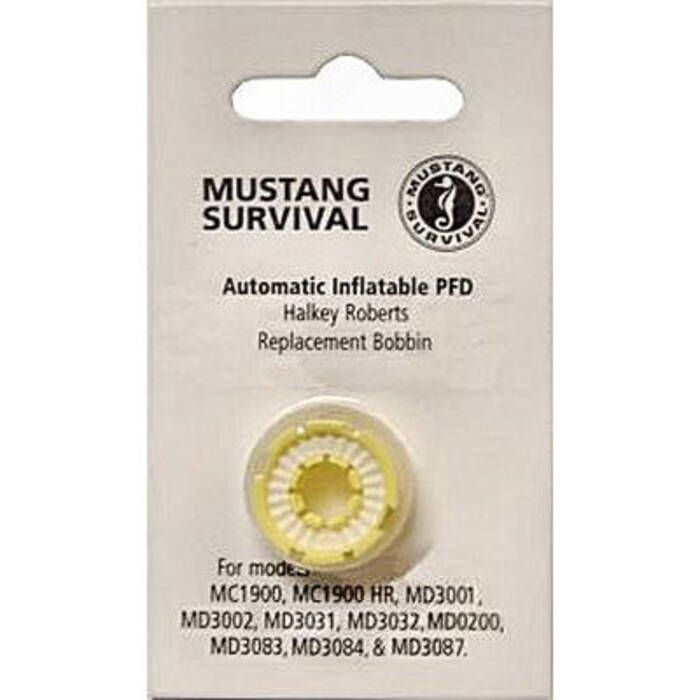 Mustang Survival Inflatable Life Jacket/PFD Replacement Bobbin - MA9210-0-0-205
Item # 875746
Description
The Mustang Inflatable Life Jacket / PFD Replacement Bobbin is a replacement part for all Halkey Roberts type automatic inflators.
Features:
Replacement part for all Halkey Roberts type automatic inflators
Bobbin dissolves when immersed in water and causes the CO2 cylinder to inflate the PFD
Mustang Survival recommends annual maintenance and inspection of your Inflatable PFD
Designed for recreational use, bobbins should be replaced every three years to avoid inadvertent inflation
Mustang Automatic Inflatable Life Jacket Applications:
MC1900
MC1900HR
MD3001
MD3002
MD3031
MD3032
MD0200
MD3083
MD3084
MD3087
Notes:
Use only Mustang Survival re-arm parts in Mustang Inflatable PFDs
Use of other re-arm components may result in improper operation or failure to operate and will void the product's warranty
WARNING
---
This product can expose you to chemicals including Antimony Oxide (Antimony Trioxide) and N,N-Dimethylformamide which are known to the State of California to cause cancer, birth defects or other reproductive harm.
For more information go to www.p65warnings.ca.gov.
Part Numbers for Mustang Survival Inflatable Life Jacket/PFD Replacement Bobbin - MA9210-0-0-205