Mustang Survival Re-Arm Kit C - 33G Hammar Auto-Hydrostatic - MA7214-0-0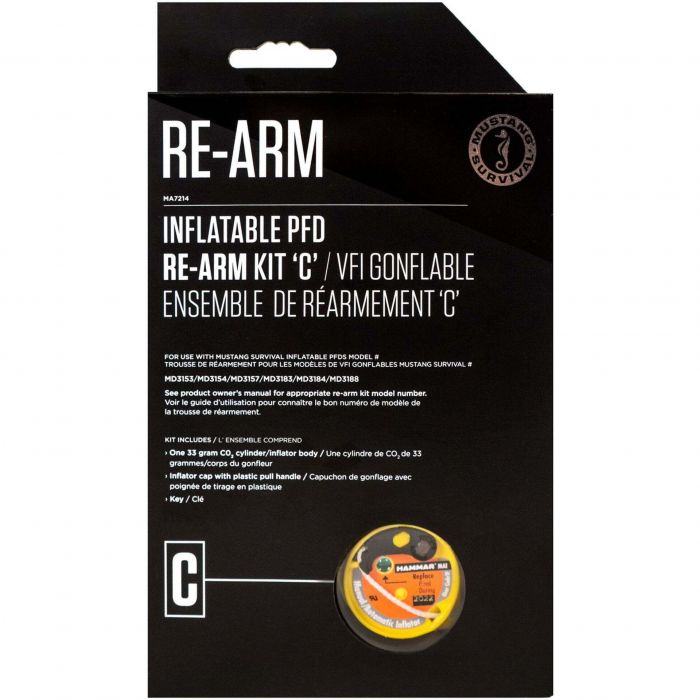 Mustang Survival Re-Arm Kit C - 33G Hammar Auto-Hydrostatic - MA7214-0-0
Item # 875745
Description
The Mustang MA7214 Inflatable Life Jacket / PFD Re-Arm Kit is designed for use with the Mustang Hydrostatic Inflatable PFD's
Features:
Mustang MA7214 Inflatable Life Jacket / PFD Re-Arm Kit contains everything necessary to re-arm your inflatable after deployment
Mustang Survival recommends annual maintenance and inspection of your Inflatable PFD. Regular maintenance can reduce the possibility of premature inflation
Compatible Mustang Survival PFD's:
MD3183
MD3184
MD3188
MD3153
MD3154
Included:
(1) 33 Gram CO2 Cylinder with Inflator Body
(1) Inflator Cap
(1) Key
Instruction Manual
Note: Use only Mustang Survival re-arm kits. Use of other re-arm kits may result in improper operation or failure to operate and will void the product's warranty.
Part Numbers for Mustang Survival Re-Arm Kit C - 33G Hammar Auto-Hydrostatic - MA7214-0-0