Mustang Survival Child Rev Vest/Life Jacket/PFD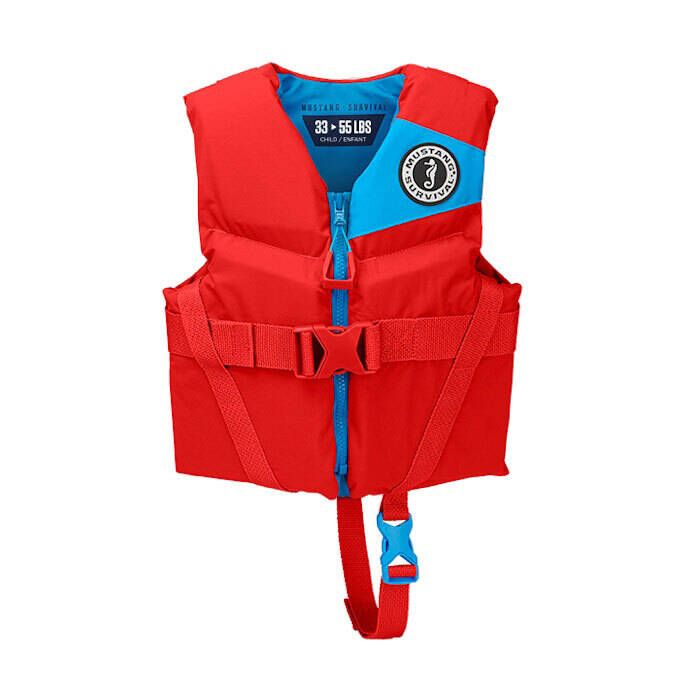 Mustang Survival Child Rev Vest/Life Jacket/PFD
Item # 875701
Description
The Mustang Rev Child's PFD is an excellent all-around PFD for your child who no longer needs the head pillow support (or stubbornly refuse it). Ultra soft fabric resists stains, and segmented foam flexes to keeps kids moving. Approved for children weighing 33 lbs-55 lbs (15kg-25kg).
Features:
Designed for children weighing 30 to 50 lbs (14 kg)
Ultra soft, stain resistant fabric
Ventilated mesh back for breathability
Segmented foam moves with the body making it comfortable to wear
Wicking liner allows for quick drying
Sturdy grab strap, crotch strap
Fully adjustable
Harmonized approval for both US and Canada

US Coast Guard Approved: 160.064/4892/0
Transport Canada Approved: TC-67329B-18 ANSI/CAN/UL 12402-5
Notes: When choosing a life vest for any child, always check for the proper weight range and follow all directions for fit and use.
Teach your Children to properly wear a PFD Children panic when they fall into the water suddenly, causing them to move their arms and legs violently and making it hard to float safely in a PFD. A PFD will keep a child afloat, but may not keep a struggling child face-up. That's why it's important to teach children how to put on a PFD and to help them get accustomed to wearing one in the water
All Children's PFDs must fit snugly To check for a good fit, pick the child up by the shoulders of the PFD. If the PFD fits right, the child's chin and ears will not slip through
Infants: The Coast Guard does not recommend taking infants on board a recreational boat as life vests currently available for newborns up to 18 pounds may not provide the proper fit to perform as expected
Infants and Children The U.S. Coast Guard and personal flotation device (PFD) manufacturers urge that PFDs be tested immediately after purchase, preferably in a swimming pool. Test it with the infant or child who will be wearing the PFD to ensure it fits that particular child properly. A proper fit for one child does not mean it will work for another in the same manner. Check for proper weight range, fit, and especially a stable face-up position in water. Infants and children are difficult to float in a face-up position because of the distribution of body weight and the tendency for them to struggle or attempt to climb out of the water. If one style of vest does not work well, try another style.

Remember: Never leave an infant or child unattended on a dock, on a boat or in-the-water, even if they have a PFD on.
Life Jackets & Personal Flotation Devices - Old vs. New Classification Systems
WARNING
---
This product can expose you to chemicals including Antimony Oxide (Antimony Trioxide) and N,N-Dimethylformamide which are known to the State of California to cause cancer, birth defects or other reproductive harm.
For more information go to www.p65warnings.ca.gov.
Part Numbers for Mustang Survival Child Rev Vest/Life Jacket/PFD