Morse Rubber Chub Brass Sleeved Shaft Bearings - CHUB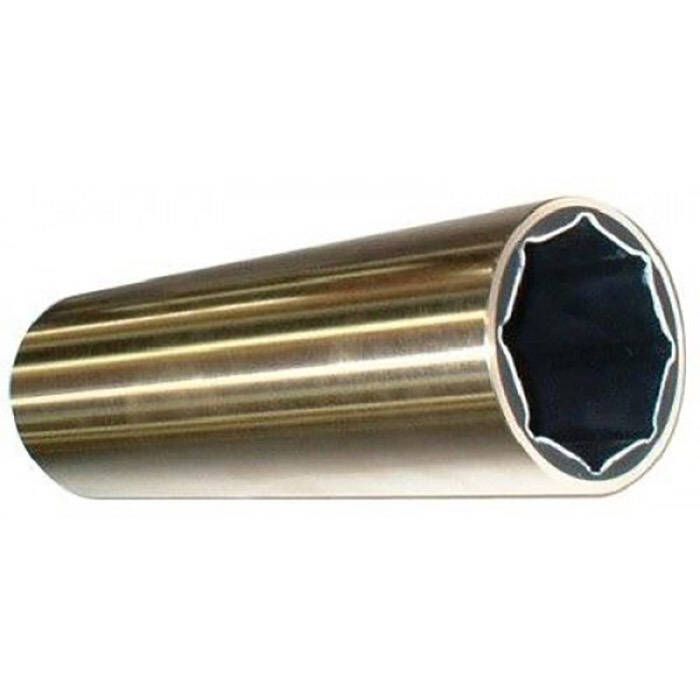 Morse Rubber Chub Brass Sleeved Shaft Bearings - CHUB
Item # 875515
Description
Features:
Morse Marine Bearings are rubber lined and water lubricated
The use of water as a lubricant provides efficient low friction operation and a stable lubricant film due to the water's incompressibility
Outer Material: Pollution-Free Naval Brass Marine Bearings
The rigid outer shell is made of naval brass
The standard flanged series outer shell is made of centrifugal cast naval brass
Rubber-lined naval brass sleeve bearings adapt equally well to strut and stern-tube mounts
External brass shells are machined and polished to provide easy fitting
They require no seals and no oil or grease for lubrication
Lubrication is provided by the water in which the vessel is traveling, making these bearings environmentally friendly
Liner Material: The high durability rubber liner is resistant to abrasion caused by particles in the water
The rubber is also oil and chemical resistant
Specially formulated oil- and chemical-resistant nitrile rubber is securely bonded to the shell
The resilience of the rubber liner allows these bearings to dampen noise and vibration
Morse Marine Bearings are precision molded and machined for consistently accurate dimensions and concentricity
Locked in place with cone-pointed set screws
Sleeve bearings are usually installed by light press fitting
Bearing Selection:
Normal design practice is to select a bearing with a length equal to 4 times the shaft diameter
It may be acceptable to deviate from this rule when application load requirements permit the use of shorter bearing lengths
Bearing. Bearing area is:
Bearing I.D. (Shaft diameter) multiply x Bearing length
Loading capability is determined by:
Multiplying that Bearing area x 35 PSI
Example: (RAY) - 3" Shaft diameter x 12" Length 36 square inch Bearing area x 35 PSI = 1,260 lbs (Bearing load capacity)
Click Here for a Data Sheet for these Products
WARNING
---
This product can expose you to chemicals which are known to the State of California to cause cancer, birth defects or other reproductive harm.
For more information go to www.p65warnings.ca.gov.
Part Numbers for Morse Rubber Chub Brass Sleeved Shaft Bearings - CHUB