Mercury 9.9 HP Tiller Outboard Motor - ProKicker EFI - 2024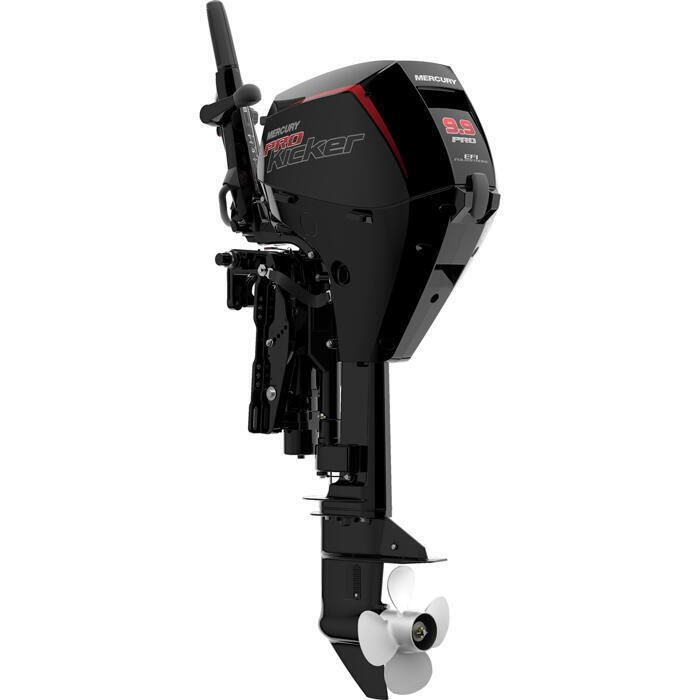 Mercury 9.9 HP Tiller Outboard Motor - ProKicker EFI - 2024
Item # 969142
Description
Mercury ProKicker outboards enable precision boat control for a wide range of fishing applications. Quiet, smooth and efficient, they make long hours of trolling more productive – and more enjoyable.
Features:
Electronic fuel injection (on most models) delivers surefire starting in all weather
High-thrust four-blade props enhance speed control at low rpm
Standard power tilt makes stowing and deploying easy
Class-leading alternator provides powerful battery-charging output at all speeds
Specifications:
Horsepower: 9.9 HP (7.4 kW)
Max RPM (wide open throttle): 5700-6200
Cylinder configuaration: inline 2
Displacement: 333cc
Fuel system: electronic fuel injection
Alternator: 6A
Gear ratio: 2.15:1
Propeller: 7P 4-blade
Steering: remote
Operator warning system: engine guardian
Dry weight:

20" shaft: 122 lbs
25" shaft: 126 lbs

Factory warranty: 3 years. Warranty begins on date of purchase.
Note: fuel tank not included.
Part Numbers for Mercury 9.9 HP Tiller Outboard Motor - ProKicker EFI - 2024