Maptech Navigation Chart Navigator Pro Software - SWCNPRO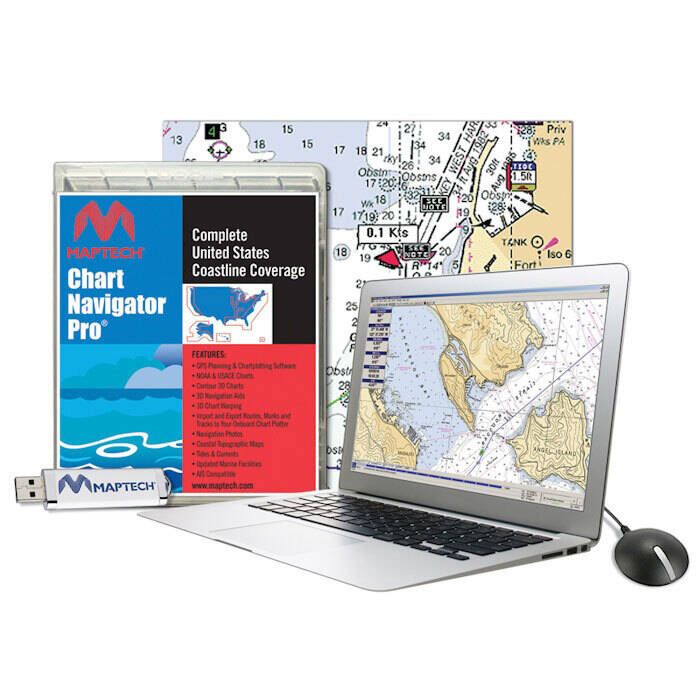 Maptech Navigation Chart Navigator Pro Software - SWCNPRO
Item # 874144
Description
Chart Navigator Pro It's easy to use, and this one box has all the features, data, and coverage you've been asking for.
Features:
New Software - Maptech's NEW GPS Planning and Navigation software
The Best Cartography - ALL Raster, Vector, Contour 3D, Photo, Topo, and more
The Most Complete Coverage - ALL U.S. coastal areas and major river systems on USB
Excellent Services - Weather forecasts and free chart updates via the Internet
Planning - Chart Navigator Pro makes it easier to plan your next cruising adventure with features like chart quilting, multi-level undo, integrated gazetteer, geo-referenced Coast Pilot, and route obstacle detection. Connect to the Internet, and you can download the latest weather forecasts and charts.
Navigation is made easier with Chart Navigator Pro's full-screen Cruise Mode, which replaces the standard Windows menus and toolbars with big fat buttons that are much easier to use while underway.
Charts - The entire U.S. Coastline is included Chart Navigator Pro includes the entire U.S. coastline on a USB drive. If you're new to PC navigation, this should be easy to grasp. If you're an old PC salt, welcome to simplicity. There are no U.S. "regions" or "unlocks" to worry about - every chart for the U.S. coastline is included. The cartography includes the Atlantic Coast, Gulf Coast, major Inland Waterways and the U.S. waters in the Great Lakes as well as the Pacific Coast, Alaska and Hawaii. These aren't overview charts - they include the most detailed ones Maptech has to offer.
Minimum System Requirements:
For Planning:
Chart Navigator Pro Software
PC with these minimum requirements:

Windows 10, Windows 2000 or XP
USB drive
1 GB of available hard disk space for program and related databases
Super VGA (800 x 600) or higher resolution monitor. 1024 x 768 or higher is recommended
Real-Time GPS Positioning also requires:
USB GPS or Industry-standard NMEA 0183 GPS receiver connected to your PC
Autopilot Connections also require:
Industry-standard NMEA 0183 Autopilot
NMEA multiplexer to combine more than 1 NMEA output Note: an Autopilot is not required to run Chart Navigator Pro
Additional MEA 0183 instruments also require:
Note: Includes software products only.
Part Numbers for Maptech Navigation Chart Navigator Pro Software - SWCNPRO