International Dock Slimline Power Pedestal Dockside Electrical Pillar - 2-30A - SPC-36-2T-350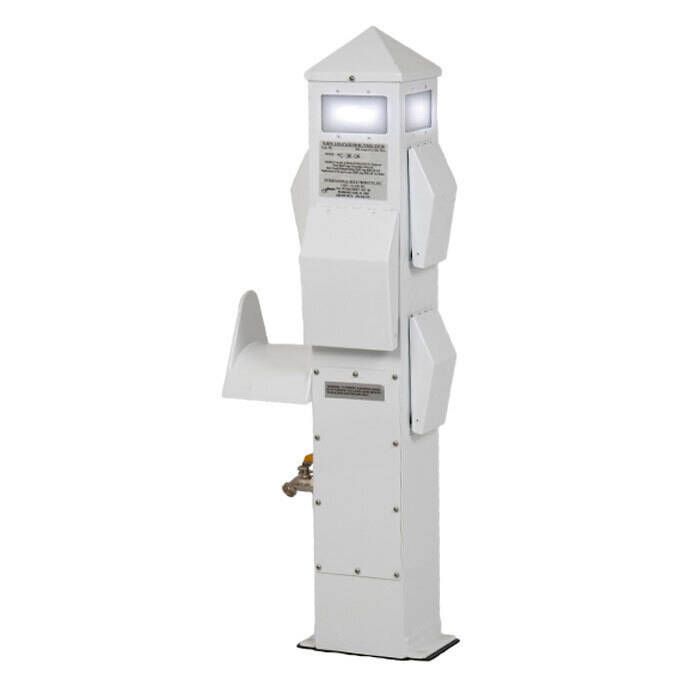 International Dock Slimline Power Pedestal Dockside Electrical Pillar - 2-30A - SPC-36-2T-350
Item # 870659
Description
The Slimline (SPC-36-2T-350) Power Pedestal by International Dock Products has all the features of the 390 with a 30 Amp twist-lock and a 20 Amp standard duplex receptacle complete with GFCI protection.
Features:
Designed for when only (1) 30 Amp cord is required
Includes yellow thermoplastic cover, and the receptacles are positioned at a 90 degree angle (straight out from the side)
Pedestal also includes a photocell controlled nightlight, a washdown connection and a convenient hanger bracket for your hose or cable
Available Options: Contact us here to order these extra options.
Power block - loop feed (stud) - maximum wire size 500 MCM cable
TV/telephone receptacle
LED lighting and photocell
Electric meters
Water meters with locking ball valves available on larger 45" units
Custom heights available
Hose holders / cable brackets
European power receptacles
Single and three phase 100 amp service available
Natural aluminum finish and custom colors available
Note: Let us provide a quote for new pedestals for your marina or yacht club. Every unit hand made in the USA to your specifications.
Specifications:
White powder coated both inside and out
Dimensions: 6" x 6" x 36"
(1) 30 Amp 125V twist lock shore power outlet
(1) 20 Amp GFIC outlet
(1) Water spigot
(1) Hose holder
(1) Fluorescent light with dusk to dawn photocell
(4) Mounting holes to allow for attachment to a dock or seawall in a fully vertical position
Warranty:

15 Year unconditional on structural integrity of 100% aluminum casing
2 Year unconditional on construction and fabrication of casing and covers
2 Year unconditional on HUBBELL® receptacles-unlimited on manufacturing defects
1 Year on SQ D® breakers
Part Numbers for International Dock Slimline Power Pedestal Dockside Electrical Pillar - 2-30A - SPC-36-2T-350