Honda 50 HP Remote Outboard Motor - BF50 - 2021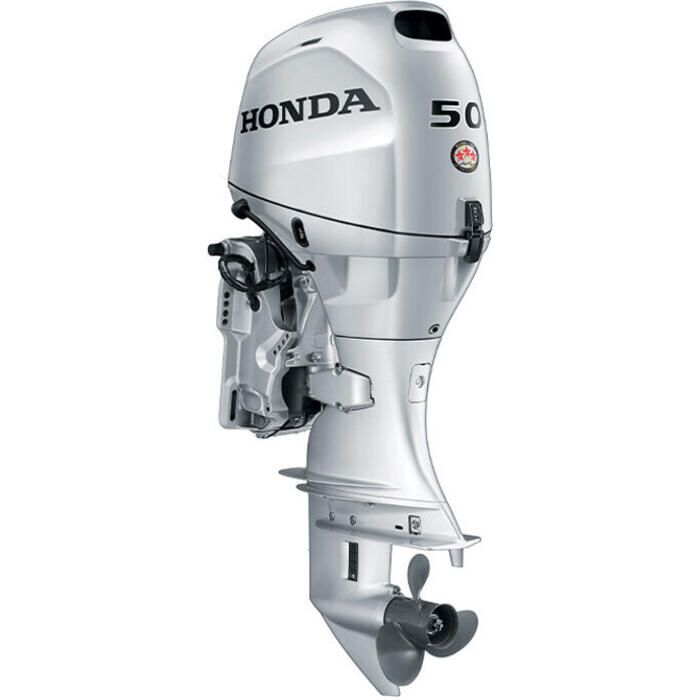 Honda 50 HP Remote Outboard Motor - BF50 - 2021
Item # 957715
Description
Features:
Forward, Neutral and Reverse shift
Electronic Fuel Injection
Water cooled
22A alternator (17A Charging)
Power trim and tilt
Fuel line
Specifications:
Engine Type: 4-Stroke
Propshaft HP: 50 HP
3-Cylinder
Shaft Length: 20" (Long Shaft)
Remote Steering

Honda Requires this outboard to be installed by a Factory Authorized Technician.
Control Box not Included

Electric Start
Weight: 216 lbs
RPM Range: 5500 - 6000
Displacement: 49.4 cu. in. (808 cc)
Gear Ratio: 2.08:1
Standard Propeller (not included)
Color: Grey
Factory Warranty: 5 years. Warranty begins on date of purchase.
Note: Fuel Tank not included. Remote outboards require installation by a factory authorized technician. Owner-installation is not permitted by the Manufacturer. Rigging components are sold separately.
Part Numbers for Honda 50 HP Remote Outboard Motor - BF50 - 2021