Honda 2.3 HP Tiller Outboard Motor - BF2.3 - 2023
$999.00 - $1,211.00
$999.00 - $1,025.00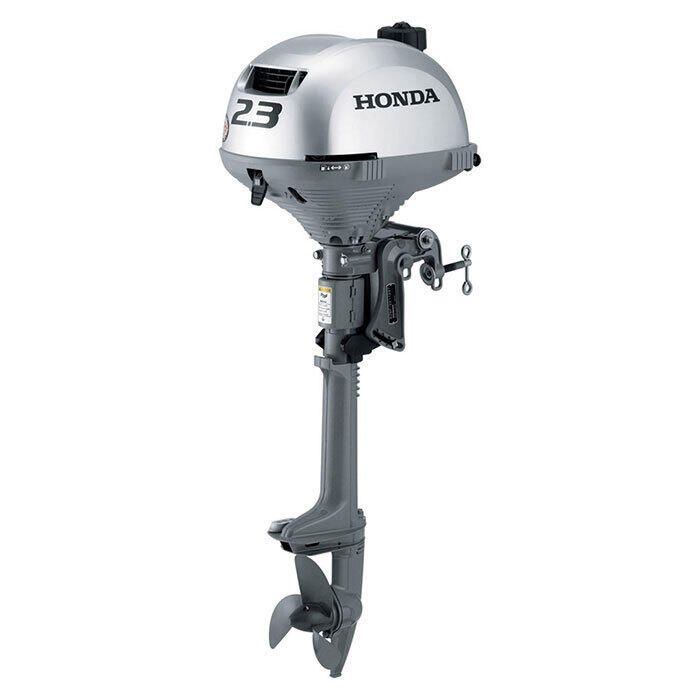 Honda 2.3 HP Tiller Outboard Motor - BF2.3 - 2023
Item # 951511
Description
The world's lightest 4-stroke outboard with world-class fuel economy, the BF2.3 is ideal for tenders, small fishing boats or as auxiliary power. Quiet and simple to run with its automatic clutch, it also gives you incredible versatility and convenience thanks to the Shallow-Water Drive, Fold-Down Tiller Handle and Integrated Fuel Tank.
Features:
Four-Stroke Engine Design: World-renowned Honda quality combines proven reliability with no oil-gasoline mixing
Honda's centrifugal clutch facilitates the running of the engine at idle, with no propeller rotation, for tight navigation or just idling at the dock
Easily transportable, this little outboard is ideal for small boats, dinghies and canoes. Lightweight 4-stroke design and is the only 4-stroke in the 2.3 HP class
Maintenance-free, high-energy output for quick and easy starting
No water pump to worry about being plugged with weeds or damaged by sand, and less weight to carry
Standard safety feature allows the operator to clip the safety switch lanyard or tether to the wrist, which will automatically activate the engine stop switch if the operator leaves the helm
Reduces the risk of engine damage while navigating in shallow water
A sacrificial anode mounted on the lower unit protects other metal components from corrosion
Centrifugal drive clutch: offers a neutral-gear position at idle
360º Degree Swivel Steering: provides excellent manoeuvrability in tight areas
Integral Fuel Tank: facilitates easy removal and portability as one unit. Vent may be closed for transport or extended storage periods
Carburetor Drain Screw: Allows quick and easy draining of the carburetor's float bowl for transport or extended storage periods
Twist Grip Throttle with Friction Adjuster: Allows for superior throttle control, and the throttle tensioner minimizes driver fatigue
Large Front-Mounted Carrying Handle: Provides superior portability and ease of installation
Fold-Down Tiller Handle: A more compact design allows for easy transportation and storage
Specifications:
Engine: 4-Stroke, OHV; 1 Cylinder / 2 Valves
Displacement: 57 cc / 3.5 cu.in
Bore & Stroke: 45 mm x 36 mm (1.77" x 1.42")
Full Throttle RPM Range: 5,000-6,000 RPM
Propshaft Rated Horsepower (HP): 2.3 HP @ 5,500 RPM
Shaft length: 15" or 20"
Cooling System: Air Cooled
Fuel Delivery: 1 Carburetor
Recommended Fuel: Unleaded Gas. (Min. Pump Octane 86)
Ignition System: Transistorized Magneto Ignition
Starting System: Recoil
Exhaust: Under Water, above propeller
Lubrication: Forced splash
Recommended Oil: SAE 10W30 API service classification SJ or later
Oil Capacity: 0.25 L (0.22 qt)
Trim Range: 5, 10, 15, and 20 deg.
Tilt Range: 75 deg.
Gear Ratio: 2.42:1
Gear Shift: F & N - 360º Swivel Steering
Oil Pressure Alert: Standard
Over Rev-Limiter: Standard
Propeller Type: 3-Blade (Polymer)
Propeller Diameter x Pitch: 184 mm x 120 mm (7 1/4" x 4 3/4")
Weight (with propeller mounted): 13.6-14.3 kg (30-31.5 lbs)
Factory Warranty: 5 years. Warranty begins on date of purchase.
Part Numbers for Honda 2.3 HP Tiller Outboard Motor - BF2.3 - 2023