Honda 15 HP Tiller Outboard Motor - BF15 - 2023
Honda Spring Into Savings Event.
Purchase a 15 HP or more Honda motor and get $200 in instant savings.
Discount applied on the cart and checkout page. Offer ends January 31st, 2024
Honda $200 Promotion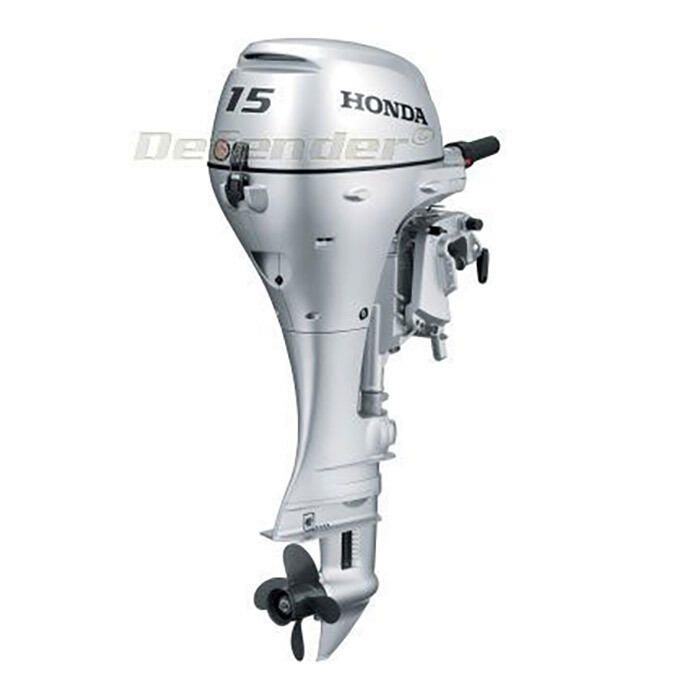 Honda 15 HP Tiller Outboard Motor - BF15 - 2023
Item # 951524
Description
With a compact size, the BF15 is perfect for aluminum fishing boats, inflatables, sailboats or as a kicker for larger fishing boats. It has one of the largest displacements in its class, giving you big performance, and the added reliability of 4-Front Corrosion Protection and Engine Alert System.
Features:
350 cc, 2-cylinder, in-line, OHC design powerhead. World-renowned Honda quality combines proven reliability and quiet operation with no gas-oil mixing
Pendulum-motion mounting system for the powerhead helps absorb the vibration, including longitudinal vibration. The pendulum mount does this without the use of a heavy balancer shaft, which also significantly reduces overall weight
Exhaust gases are diverted through additional exhaust relief ports above the cavitation plate, allowing the propeller to back up into clean, bubble-free water, thereby increasing reverse thrust
PGM-IG ignition provides reliable starts and optimum ignition timing enhancing running performance across the entire speed range
Electronically controlled monitoring system protects the engine components from over-revving, low engine-oil pressure and overheating
A high-quality regulator/rectifier is standard on all models to prevent overcharging the battery
Fresh Water Flushport: allows easy hook-up to fresh water supply to flush debris and salt water out of the engine, extending the life of the outboard. (optional Flush Kit required)
All Honda Marine engines exceed the highest CARB 3-Star rating to meet the rigorous California Air Resource Board's standards
An automatically controlled start-up fuel-enrichment system ensures optimum air-fuel ratio to the engine, eliminating the chores of choke operation and greatly simplifying engine start-up (electric-start models only)
Easy to transport, ideal for 10-12' fishing boats, inflatables or for auxiliary sail and trolling power
Forward-Mounted Shift Lever: allows more control and comfort in shifting
Quick-Twist Throttle Friction Adjuster: A simple twist of the throttle friction collar located right at the throttle grip allows you to adjust the throttle tension up or down, minimizing driver fatigue
A quick-adjust lever design located just above the transom bracket allows for precise adjustments at your fingertips
Foldaway carry handle is situated at the exact horizontal balance point of the engine so that the engine carries more easily in a level position
Long tiller handle for increased control and reduced steering effort. The tiller handle is also made of lightweight composite for increased strength and weight reduction
Specifications:
Engine type: 4-Stroke SOHC; 2 Cylinders / 4 Valves
Displacement: 350 cc / 21.4 cubic in.
Bore & Stroke: 59 mm x 64 mm (2.3" x 2.5")
Full Throttle RPM Range: 4,500-5,500 RPM
Propshaft Rated Horsepower (HP): 15 HP @ 5,000 RPM
Cooling System: Water Cooled
Fuel Delivery: 1 Carburetor
Recommended Fuel: Unleaded Gas. (Min. Pump Octane 86)
Ignition System: PGM-IG
Exhaust: through hub
Lubrication: Forced Lubrication (Trochoid pump)
Recommended Oil: SAE 10W30 API service classification SJ or later
Oil Capacity: 1.1 L (1.2 US quart) with oil filter replacement
Trim Range: 4-Stage 8°-12°-16°-20°
Tilt range: 72°
Gear Ratio: 2.08:1
Gear Shift: F-N-R
Alternator (electric start): 12A/148W
Alternator (rope start): 6A/76W
Control type: tiller
Start: Rope or electric start
Tilt system: manual or power tilt
Oil Pressure Alert: Standard
Over Rev-Limiter: Standard
Temperature Alert: Standard
Overall Width: 350 mm (13.7")
Propeller Type: 4-Blade (Aluminum)
Propeller Diameter x Pitch: 235 x 254 mm (9 1/4" x 10")
Dry weight: 104 - 131 lbs
Fuel tank capacity: 3.2 gal
Factory Warranty: 5 years. Warranty begins on date of purchase.
Part Numbers for Honda 15 HP Tiller Outboard Motor - BF15 - 2023