Honda 15 HP Remote Outboard Motor - BFP15 Power Thrust - 2022
Honda Spring Into Savings Event.
Purchase a 15 HP or more Honda motor and get $200 in instant savings.
Discount applied on the cart and checkout page. Offer ends January 31st, 2024
Honda $200 Promotion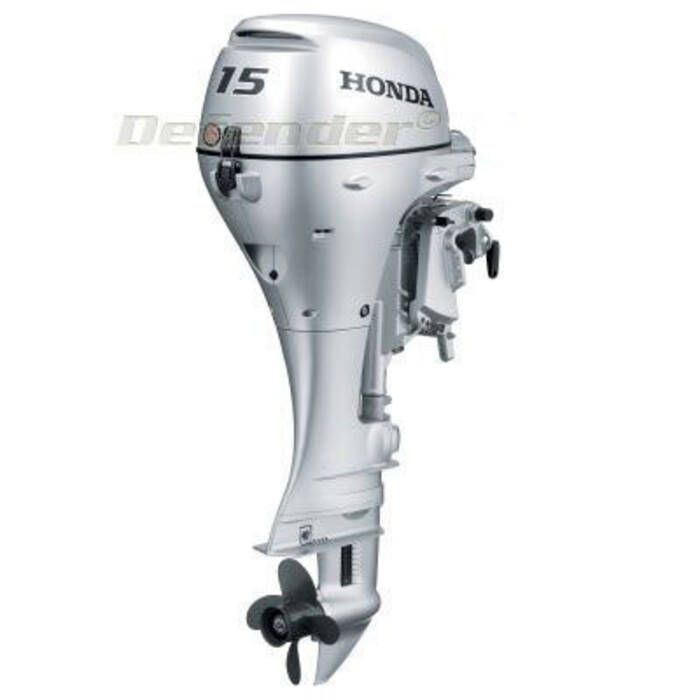 Honda 15 HP Remote Outboard Motor - BFP15 Power Thrust - 2022
Item # 951525
Description
The BF15 and BF20 are as convenient as you can get. At just 104 pounds, they are among the lightest in their class. Yet they're all Honda DNA: quiet, reliable, fuel efficient, and loaded with features. Like the highest output charging system in their class, giving you plenty of power for all your electronics, even when trolling. Or large displacement for a powerful performance. Power Thrust design with 60% more thrust in reverse and 15% more in forward.
Features:
A reliable microprocessor accurately controls ignition timing during start-up and across the entire RPM range, providing optimum overall performance
An innovative shallow water drive feature lets you tilt the motor up, allowing you to easily operate in shallow areas. Shallow water drive greatly reduces the risk of engine damage
Conventional 2-circuit carburetors go directly from a lean mixture at idle to a rich setting at full throttle
Conveniently allows user to tilt the unit out of the water. At low speeds acts like a power shallow-water-drive device, permitting access to the shallow water areas
The exhaust relief feature creates more power in reverse by minimizing cavitation around the propeller blades
The integrated warning system protects the engine from severe damage due to low oil, over-revving and overheating
A patented, "Double Sealed" multi-layered paint process. Sacrificial anodes and stainless steel technology, along with waterproof connectors, all enhance corrosion protection
Auto Start Enrichment acts as an automatic choke, just like a fuel injection system
A integrated carrying handle makes transporting the engine a breeze
Honda's exclusive triangulated rubber mount system absorbs vibration and provides unbelievably smooth operation
Convenient front-mounted shift lever allows fingertip shifting. The Twist Grip Throttle & Tensioner minimize driver fatigue
A unique lever design allows you to precisely adjust steering tension for improved control and comfort
Specifications:
Engine type: 4-Stroke SOHC 2 Cylinder/4 Valves
Displacement: 350 cc (21.4 cubic inches)
Bore & Stroke: 59 mm x 64 mm (2.3" x 2.5")
Full Throttle RPM Range: 4,500-5,500 RPM
Rated Power: 15 HP @ 5,000 RPM
Oil capacity: 1.1 L with filter replacement
Cooling System: Water Cooled
Fuel Delivery: 1 Carburetor
Ignition System: PGM-IG
Exhaust: Through Hub
Lubrication: Wet Sump
Trim Range: 4 Stage 8°-12°-16°-20°
Tilt Range: 72°
Gear Ratio: 2.08:1
Gear Shift: F-N-R
Steering: remote
Alternator with voltage regulator (Electric Start): 12A/148W
Propeller: 4-Blade Aluminum
Diameter x Pitch: 10" x 7 7/8"
Oil Pressure Alert: Standard
Temperature Alert: Standard
Rev-Limiter: Standard
Dry weight: 47-52 kg (104-115 lbs)
Fuel tank capacity: 3.2 gal
Fuel line included
Factory Warranty: 5 years. Warranty begins on date of purchase.
Note: Control box not included.
Part Numbers for Honda 15 HP Remote Outboard Motor - BFP15 Power Thrust - 2022