Highfield Ultralite UL340FD Aluminum RIB 11' 1" Boat with Honda 20 HP Motor - BF20 - 2024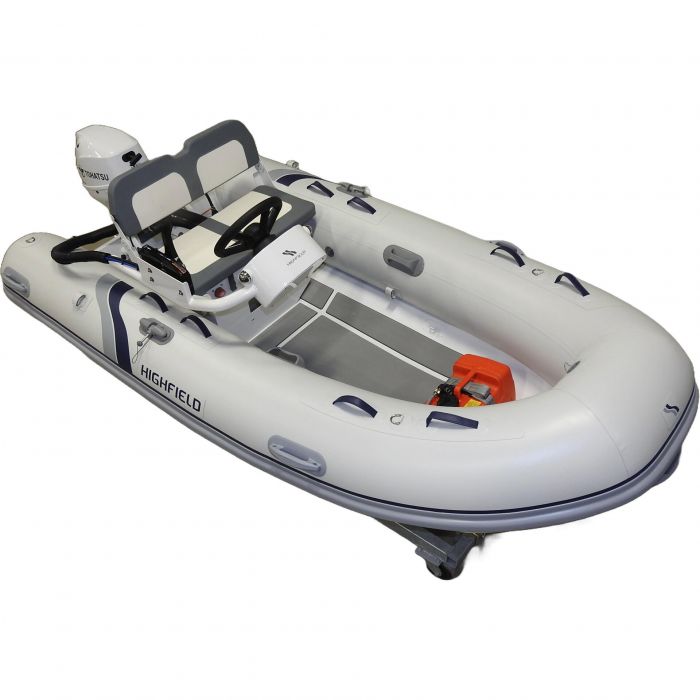 Highfield Ultralite UL340FD Aluminum RIB 11' 1" Boat with Honda 20 HP Motor - BF20 - 2024
Item # 1003098
Description
The largest model in the Ultralite range has room on board for up to 6 people, can be powered by up to a 20 HP engine and now with a full flat floor for better footing. As their name suggests, the Ultralites' low weight make them a real alternative for those who may have chosen a soft bottom tender in the past but would prefer the performance of a hard hull. Ultralite tenders are roomy and strong, yet light and easy to transport. These little boats can be launched and recovered by a single person, and are easily transported on a roof rack. The UL hull is built from 2.5 mm thick powder coated marine grade aluminum, and the tubes feature 1100 Decitex Valmex® PVC or Orca® Hypalon material, cut and assembled to exacting standards. The simple layout of the UL, with an uncluttered design and numerous standard accessories, make the UL series one of the best values in inflatable boats.
Features:
Approximate rigged wet weight: 400 lbs
(Includes battery and removable fuel tank)
Rigid "V" aluminum hull, white powder coat
FCT-7 bench/console, white powder coated aluminum
Navigation lights on console with pole mounted stern light
Battery and battery box
Stingray Hydrofoil to increase stern lift
Full length keel guard
Bilge pump, automatic and switched
Davit lifting points (3 & 4-point lift system)
Raised rub strake
Aluminum bow eye, welded
Emergency paddle with boat hook T-grip handle
Fuel/water separator
Inflation pump
Repair kit
Includes rigging components, hardware, and prep
Boat Specifications:
Length: 11' 1"
Beam: 5' 8"
Boat weight: 134 lbs
Capacity: (5 + 1) Persons or 1,462 lbs
Tube diameter: 17"
Separate air chambers (3)
Factory Warranty (PVC model): 5 years. Warranty begins on date of purchase.
Factory Warranty (Hypalon model): 10 years. Warranty begins on date of purchase.
Engine Specifications:
Engine: Honda BF20D3SRT
20 HP 4-stroke
Engine weight: 128 lbs
Steering: Remote steering
Starting method: Rope & electric start
Tilt: Power tilt
Propeller: 4-Blade aluminum propeller
Fuel tank: 3 gallon fuel tank and fuel line
Factory Warranty: 5 years. Warranty begins on date of purchase.
Note: Images are for reference only. Tohatsu MFS20 shown for illustration purposes.
Highfield Owner's Manual (1.91 MB)
Part Numbers for Highfield Ultralite UL340FD Aluminum RIB 11' 1" Boat with Honda 20 HP Motor - BF20 - 2024