Golight 2020 Fixed Mount Halogen Remote Control Searchlight - 2020GT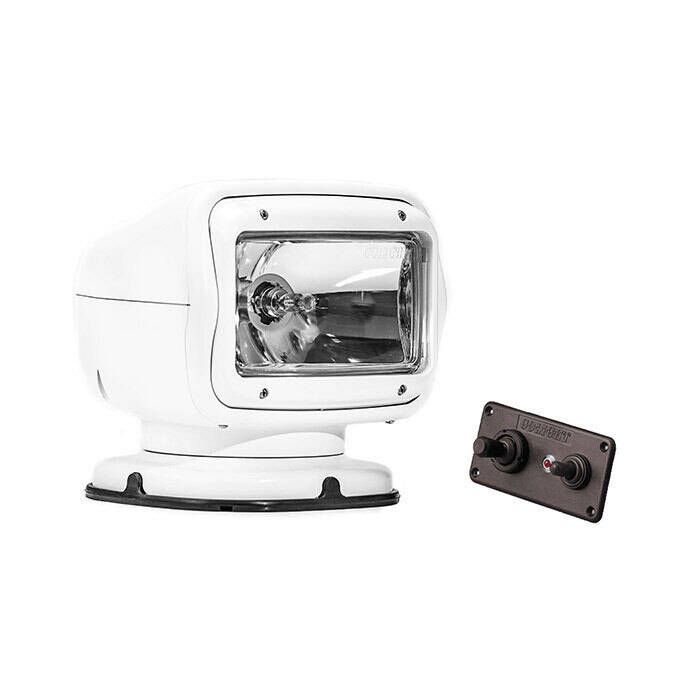 Golight 2020 Fixed Mount Halogen Remote Control Searchlight - 2020GT
Item # 867531
Description
The Golight 2020 Fixed Mount Halogen Remote Control Searchlight uses Exclusive Cr5 Pentabeam™ Technology to generate an extremely bright, virtually perfect beam of light to eliminate dark spots, cast a broad spectral pattern and reach distances of up to one-half mile.
Features:
Exclusive Cr5 Pentabeam™ Technology
Philip's H-9 halogen bulb
Five-sided parabolic reflector
Integrated 12V DC high-torque motor
Weatherproof for land and sea applications
U.V. and salt water resistant
Streamlined design
Specifications:
Peak Beam Intensity: 225,000 Candela
Maximum Beam Distance: 949 meters / 3113 feet
370° Rotation x 135° Tilt
Beam Angle: 8°
Draw: 5.5 Amps
Power: 12V DC
Dimensions: 7" x 7" x 6.5"
In the Box:
Golight™ Searchlight
Wired Dash Mount Remote Control
20 Foot wiring harness
Permanent Mounting Gasket
Part Numbers for Golight 2020 Fixed Mount Halogen Remote Control Searchlight - 2020GT