Go Power 55W Solar Flex Solar Charging Expansion Kit - GP-FLEX-55E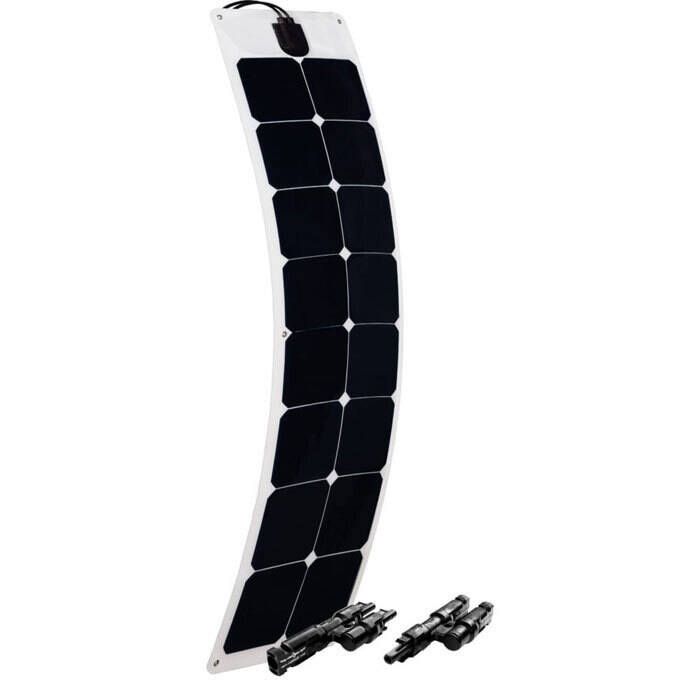 Go Power 55W Solar Flex Solar Charging Expansion Kit - GP-FLEX-55E
Item # 867484
Description
The Go Power! Solar Flex™ 55W Expansion panel is an aerodynamic and durable, low-profile solar battery charger for RVs, boats, work trucks, long-haul trailers, and sleeper cabs. The thin, lightweight module conforms to almost any surface and is designed to provide a powerful charging solution through high-efficiency monocrystalline cells.
Features:
High-efficiency monocrystalline cells that produce more power per square foot than any Impermeable lamination coats the entire module, allowing it to contour and flex against curved areas, eliminating any need for custom mounts
Panel can be affixed by adhesive or screw mounting options and grommets are an added bonus for ease-of-installation
Sealant/adhesive required will depend on roof membrane material and is not included in the Solar Flex kit
Supplied with multi-contact MC4 connectors for serial wiring between Go Power! solar kits
Panels curve up to 30° to conform to almost any surface
82% Lighter than other solar modules
Durable surface is less than 1/8" (3 mm) thick
Flexible, high-efficiency back-contact cells
CE certified panel made from marine-grade material
Specifications:
Solar cell type: Monocrystalline
Maximum Power: 17.5V DC
Maximum Power Current: 55W
Maximum Power Current: 2.88A
Open Circuit Voltage: 19.0V
Short Circuit Current: 3.04A
Maximum System voltage: 600VDC
Dimensions: 44.9" H x 11.3" W x 0.1" D
Weight: 1.5 lbs (0.72 kg)
In the Box:
(1) GP-FLEX-55 high-efficiency monocrystalline solar panel
MC4 cable with MC4 connectors
Mounting hardware
Note:The Go Power! GP-FLEX-55E Solar Charging Expansion Kit does not include a digital controller. It is designed to be added to the Go Power! GP-FLEX-55 Solar Panel Charging Kit which includes a Controller.
Go Power! Solar Flex Solar Charging Expansion Kit Product Data Sheet
Part Numbers for Go Power 55W Solar Flex Solar Charging Expansion Kit - GP-FLEX-55E