Go Power 10A PWM Digital Solar Controller - GP-PWM-10-FM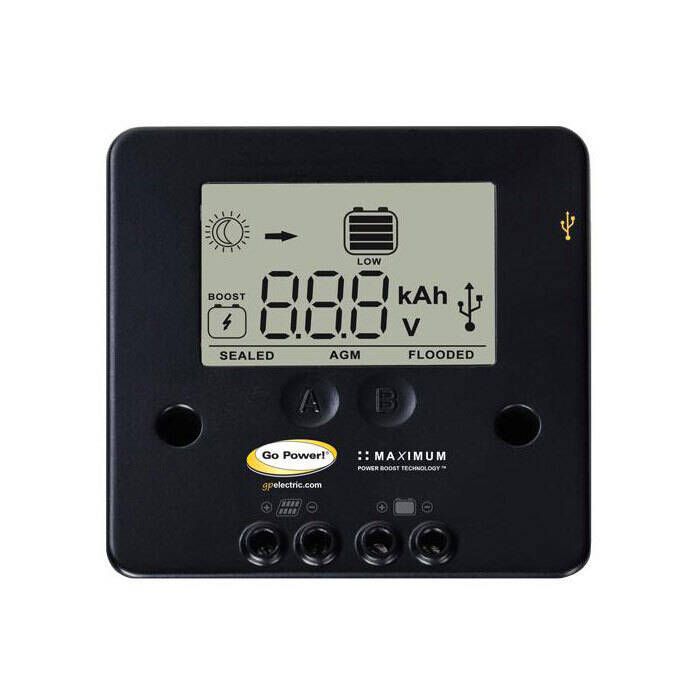 Go Power 10A PWM Digital Solar Controller - GP-PWM-10-FM
Item # 867454
Description
The Go Power! 10 amp PWM Digital Solar Controller regulates flow from the solar panels to the battery, while preventing overcharges and optimizing battery lifespan.
Features:
Photovoltaic (PV) charge controller rated for continuous solar current input of 10 Amps
Once battery has reached 100% state of charge, controller prevents overcharging by regulating current flowing into the batteries from your solar array
Suitable for 12V DC solar systems up to 160W
Temperature-compensated pulse width modulation (PWM) charging
(3) Battery charging profiles: Sealed / Gel, AGM, and Flooded
4-stage charging: Bulk, Absorption, Float, and Equalize
Automatic Maximum Power Boost Technology™
Back-lit LCD digital screen displays charging current, battery voltage and battery state of charge
Built-in USB charge port
Heavy-duty terminals for low-resistance connections
Specifications:
Nominal System Voltage: 12V DC
Max. Solar Array Current: 10 Amps
Battery Voltage Range: 6 - 15.5V DC
Max. Solar Panel Input Voltage: 28V DC
Dimensions: 4.02" x 3.94" x 1.14"
Go Power! 10 Amp PWM Digital Solar Controller Product Data Sheet
Part Numbers for Go Power 10A PWM Digital Solar Controller - GP-PWM-10-FM