FLIR Ocean Scout 320 NTSC Handheld Thermal Marine Scope - 432-0009-22-00S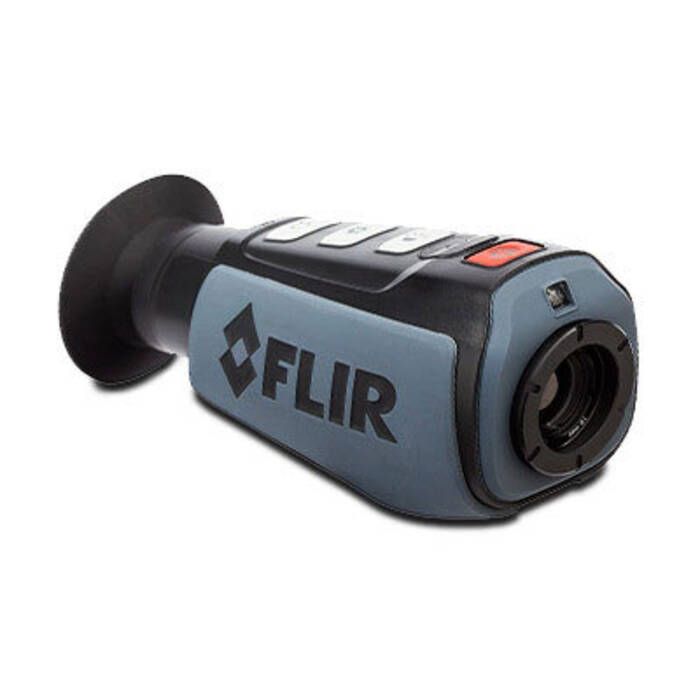 FLIR Ocean Scout 320 NTSC Handheld Thermal Marine Scope - 432-0009-22-00S
Item # 865816
Description
The FLIR Ocean Scout 320 handheld thermal imaging camera gives every mariner the power to see at night like never before. FLIR Thermal Cameras make pictures from heat, not light, helping you see landmarks, bridge abutments, and other vessels clearly in all light conditions from daylight to complete darkness. Thermal night vision improves your ability to see rocks, buoys, floating debris, and even helps you find people in the water, vital when just a few minutes makes all the difference in the matter of survival. See more -and see farther- than every other night vision technology around.
Features:
See clearly in total darkness - unlike other night vision systems, Ocean Scout Series cameras require no light at all
See logs, rocks, land, and other hazards that radar can miss
Boat with confidence at night knowing that you can see harbor entrances and waterways in total darkness
Rugged design - Built to withstand the demands of outdoor use
toggle the image display between White Hot, Black Hot, and the powerful Instalert™ detection palettes for excellent image detail in different environments
320 x 240 microbolometer sensor for excellent image quality and clarity
19 mm lens with 24° field of view
Palm-Sized Portability and Light Weight - Only 12 Ounces
Embedded LED Task light
Rechargeable Internal Li-Ion battery - Provides up to 5 hours of camera operation on a single charge
In the Box:
Handheld Thermal Camera
USB Power Adapter/Charger
Wrist strap
Custom Video out cable
USB Cable
Quick Start Guide
Molle bag
Specifications:
Thermal Imaging

640 X 480 LCD Display
Detector Type: 336 × 256 Vox Microbolometer
FOV: 17° x 13° NTSC
Focal Length: 19 mm
Waveband: 7.5 - 13.5 µm
Start-up Time: < 1.5 seconds
Focus: 2x Electronic Zoom
Image Processing: FLIR Proprietary Digital Detail Enhancement

User Interface

Power Button: On/Off
Zoom Button: Freeze Frame
Polarity: toggles White Hot, Black Hot, Marine Red Display, plus Instalert™
Brightness: Adjusts Display Brightness

Image Presentation

Built-In Display: Color LCD Display
Video Refresh Rate: <9 Hz
Image Polarity: White Hot; Black Hot; Marine Red, Instalert
On-Screen Symbology: Standard

Video output on the Ocean Scout 320 is through the min-USB port

It has a "Smart chip" so that if it detects power it charges the camera
If it doesn't detect power it outputs video through a custom mini-USB to RCA analog video adapter (Included in the Box)

Power

Battery Type: Internal Camera Battery / Li-Ion
Battery Life (Operating): 5 Hours + (typical)

Environmental

Rating: IP-67
Operating Temp: -4°F to 122°F (-20°C to 50°C)

Physical

Weight: 12 oz (340 g)
Size (L x W x H) 6.70" x 2.31" x 2.44" (172 x 58.7 x 62 mm)

Range Performance

Detect Man (1.8 m x 0.5 m) ~1,500 ft (450 m)
Detect Small Vessel (2.3 m x 2.3 m) ~4,200 ft (1.2 km)
Note: These Cameras / Scopes are Not to be used as a primary source of navigation
Special Note: Export restrictions apply.
Part Numbers for FLIR Ocean Scout 320 NTSC Handheld Thermal Marine Scope - 432-0009-22-00S