Dometic MasterFlush MF 7220 Toilet - 304722001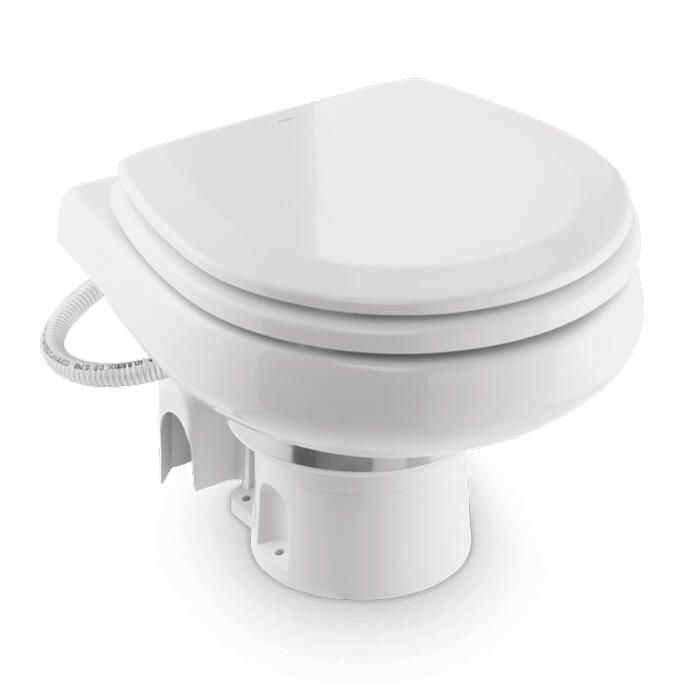 Dometic MasterFlush MF 7220 Toilet - 304722001
Item # 933821
Description
Dometic's MasterFlush MF 7220 Toilet is a space saving macerator toilet with residential proportions and fresh water flush. By incorporating clever 360° Orbit technology it fits perfectly into a small area. It is quiet, effective and energy efficient by design and purpose-built for retrofitting into small boats.
Features:
Low-profile electric macerator toilet with small footprint ideal for installing into smaller head compartments
Innovative Omnidirectional Rotating Base Installation Technology (ORBIT)
Full 360° bowl-to-base rotation allows virtually limitless positioning to accommodate small spaces and diverse plumbing layouts
Energy efficient with low-consumption as little as 0.3 gal. fresh water per flush
Electric intake water valve integrated into toilet base
Highly effective macerator system for trouble-free and odor-free performance
Dual-stage impeller / macerator cutting wheel pulverizes waste for thorough waste tank pump-out
Supplied with single-function flush switch (DFS-1F) standard
Compact bowl with comfortable, full-sized enameled wood seat
Specifications:
Materials: Vitreous ceramic toilet with polypropylene base
Voltage: 12V DC
Current draw: 20 Amps
Circuit breaker: 25 Amps
Flush control: Remote DFS-1F switch (momentary) panel
Water supply: Onboard fresh water, solenoid valve
Inlet hose: 0.5" ID
Discharge hose: 1" or 1.5" ID
Switch panel (DFS-1F) dimensions: 1.625" x 3.25"
Included:
Macerator toilet
Single-function flush switch DFS-1F
1.5" Discharge fitting
Floor mounting hardware kit
Water supply hose kit
Installation instructions, operating manual, quick-start guide
Part Numbers for Dometic MasterFlush MF 7220 Toilet - 304722001