Cobra Electronics MR HH600 Floating Handheld VHF Radio with GPS and DSC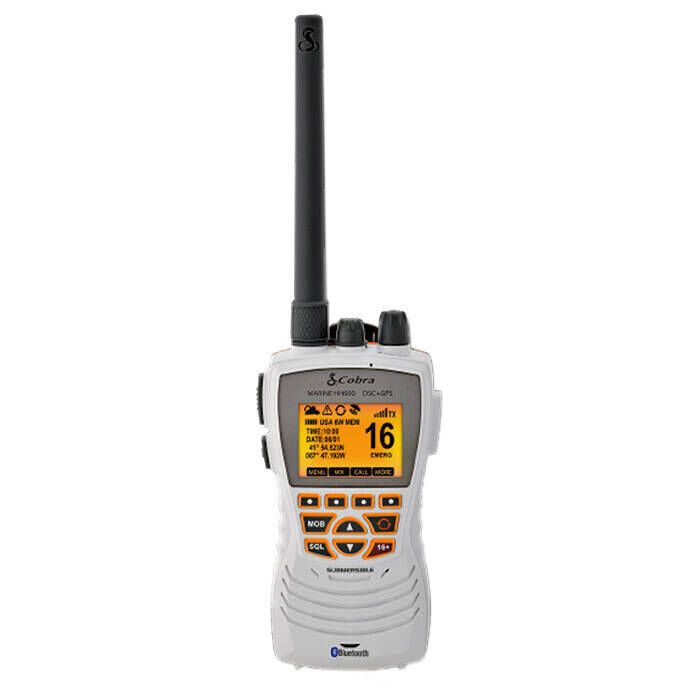 Cobra Electronics MR HH600 Floating Handheld VHF Radio with GPS and DSC
Item # 864187
Description
The Cobra MR HH600 is a floating, handheld VHF radio equipped with GPS.
Features:
Built-In GPS Receiver & DSC: Shows GPS coordinates on screen and automatically sends GPS location with DSC calls
Bluetooth® Wireless Technology: Make and receive phone calls using Bluetooth Wireless Technology, keeping your cell phone safe and dry
Floating: Never lose your radio. Floating design and orange core make retrieving the radio easy if dropped overboard
Rewind-Say-Again®: Replay missed VHF calls
6W VHF: Select between 1, 3 and 6W for short and long range communication
Flashlight/S.O.S. Light: The radio's light can be used as a flashlight or S.O.S. signal, and the light flashes automatically when dropped in the water
Specifications:
General:

Number of Channels All: U.S.A., Canadian, International
10 NOAA Weather Channels
Channel Spacing: 25 kHZ
Modulation: 5 kHz Max
Input Voltage: 7.4 VDC
Battery Life: 5% TX, 5% RX, 90% Standby, 10 Hours @ 6W
Battery Requirements: Cobra Battery Pack CM 110-034
Current Drain:

Stand-by 45 mA
Receive 200 mA
Transmit 1.8 A @ 6W High Power
700 mA @ 1W Low Power

Temperature Range: -20°C to 50°C
Unit Dimensions: 5.71" H x 2.83" W x 1.87" D (not including antenna) (131 mm x 72 mm x 47 mm)
Unit Weight (Lbs): 0 lb., 11.60 oz. (329 g.) with Lithium-Ion Battery

Receiver

Frequency Range: 156.050 to 163.275 MHz
Receiver Type: Double Conversion
Super-Heterodyne
Sensitivity: -120dBm - 12 dB SINAD
Adjacent Channel Selectivity: -60
Intermodulation and Rejection: -70
Spurious & Image Rejection: -60
AF Output: 250mW @ 8 Ohms

Transmitter

Frequency Range: 156.025 to 157.425 MHz
RF Output Power: 1, 3 or 6W
Spurious Emissions: -60 dB @ High Power
-55 dB @ Low Power
Frequency Stability: +/-5 ppm
FM Hum & Noise: 40 dB

GPS

Receiver 56 channels
Acquisition Times:

Hot Nominal: < 1 second, Limit: +/- 5 seconds
Warm Nominal: < 33 second, Limit: +/- 5 seconds
Cold Nominal: < 35 second, Limit: +/- 10 seconds

Update Rate: Up to 5 Hz
Antenna Type: Internal patch antenna
GPS receiver first lock sensitivity Nominal: -148dBm
GPS receiver tracking sensitivity Nominal: -165dBm
Differential System Compatibility WAAS (United States), EGNOS (Europe), MSAS (Japan)

NMEA Info:

Output Specification NMEA 0183- ASCII serial output
Electrical Standard EIA-422
NMEA Sentences GGA, GLL, GSA, GSV
Package Includes:
CM 110-034: 2000mAh LiON polymer rechargeable battery (black color)
CM 110-032: Desktop charging cradle
CM 110-035: Alkaline battery tray. Use with AA alkaline batteries
CM 120-007: AC adapter with North America plug
CM 130-005: 12V DC accessory plug
CM 140-003: NMEA output cable
CM 300-002: Replacement antenna (black color)
CM 240-003: Spring-loaded belt clip
Click Here for an Owner's Manual for this Product (12.94 MB)
WARNING
---
This product can expose you to chemicals which are known to the State of California to cause cancer, birth defects or other reproductive harm.
For more information go to www.p65warnings.ca.gov.
Part Numbers for Cobra Electronics MR HH600 Floating Handheld VHF Radio with GPS and DSC