Aqua Signal Bremen LED Handheld Searchlight - 86600-7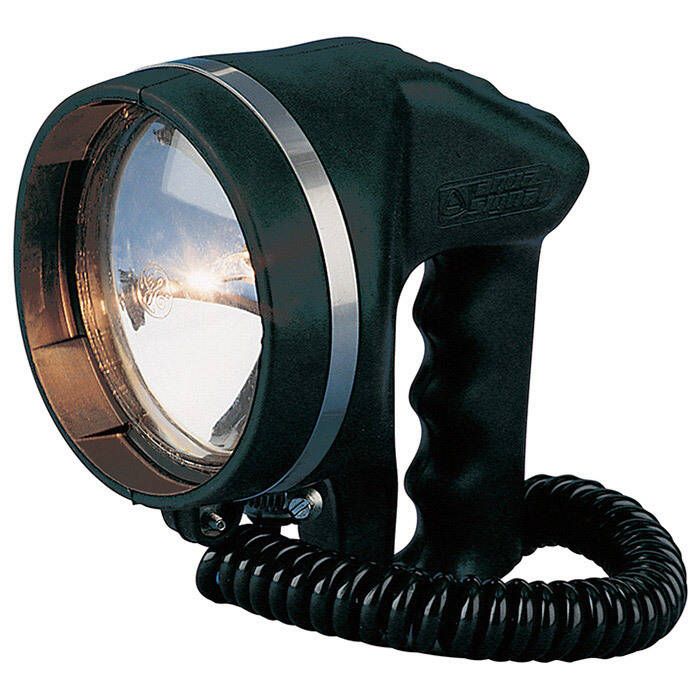 Aqua Signal Bremen LED Handheld Searchlight - 86600-7
Item # 860872
Description
The Aqua Signal Bremen LED Searchlight is a watertight, hand-held search light with Morse capability. This light is suitable for use on motor and sailing vessels in extreme weather conditions.
Features:
LED handheld searchligh
Watertight
Off/On switch with Morse capability
12W LED bulb module

Covered by a clear Fresnel lens
Candlepower: 60,000
No filament to burn out or break

For use on motor and sailing vessels under extreme weather conditions
Used by Coast Guards and military staff all around the world
Suitable for life boats and commercial craft under SOLAS and MCA regulations.
Black rubber handle provides a solid grip
Entire housing is impact and shock resistant
Designed with an extended front edge for protecting the lens
Non-corrosive and non-magnetic
Ingress protection of IP68

Neoprene clad
Saltwater resistant and submersible
Completely sealed to be dust-proof and capable of continuous immersion in water
Specifications:
Environment: Indoors or outdoors
Power: 12 - 24V
Bulb: 12W LED module
Candlepower: 60,000
10 foot coiled power cord
Bare wire ends for hard-wiring, or installing a plug
Dimensions: 6.5" H x 5.8" D
Diameter: 4.6"
Wheelmark certified
CE marked, meets SOLAS requirements
Tested for electromagnetic compatibility (EMC).
Part Numbers for Aqua Signal Bremen LED Handheld Searchlight - 86600-7