This product has been discontinued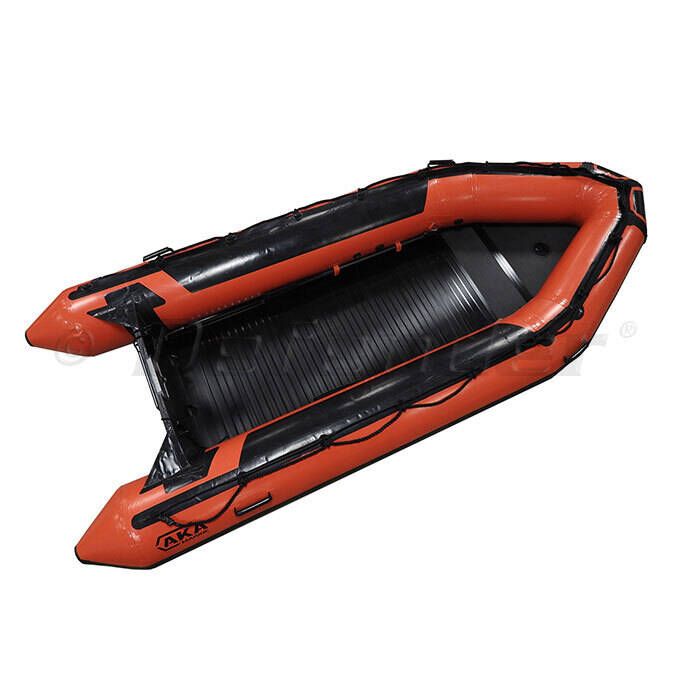 AKA Foldable Inflatable Boat C-Series - 14' 1" - Red - AKF43PR
Item # 859976
Description
Features:
Non-skid Aluminum Floor with built-in rails
Rigid Keel (Maximum Sturdiness)
Bow Floorboard, Wood
Marine plywood transom, Black
Stern lifting points
Self-Bailer
Aluminum engine mounting plate
Lacing cuff and safety grab lines
Heavy Duty, anti-chafing, bow fender system
Leafield Inflation Valves
Leafield Pressure Relief Valves
Large Profile Rubbing Strake
(4) Carry Handles
Bow carry handle
Large Diameter tow rings
Bow Lifting rings
Paddle retainers
Reinforced Cone Ends
Standard Equipment:
(2) Paddles
Foot Pump
Pressure Gauge
Repair Kit
Owner's Manual
Specifications:
Length 14' 1"
Beam 5' 9"
Hull Weight: 240 lbs
Capacity: (7) Persons (1918 lbs)
Maximum power allowed 50 hp (15" Shaft)
Maximum Motor Weight: 240 lbs
Tube Diameter 18"
Separate Air Chambers: (3)
Fabric Type: PVC (Strongan 2 x 1100 dtx - Thermobonding Technology)
Factory Warranty: 5 years. Warranty Begins on Date of Purchase.
Note: F43H-C (CSM) model shown in images is for illustration purposes only - actual boat may differ.
Part Numbers for AKA Foldable Inflatable Boat C-Series - 14' 1" - Red - AKF43PR