Airmar B275LHW Wide-Beam Chirp-Ready Thru Hull Transducer - 12-Pin Furuno - B275C-LHW-12F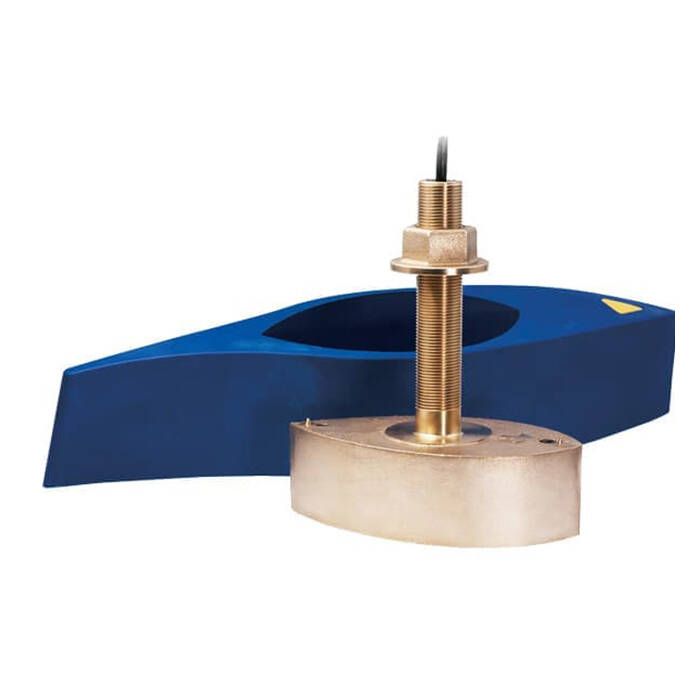 Airmar B275LHW Wide-Beam Chirp-Ready Thru Hull Transducer - 12-Pin Furuno - B275C-LHW-12F
Item # 859942
Description
Unlock the true potential of your fishfinder with the superior quality and performance of Airmar's B275LH-W Wide-Beam Chirp-Ready Thru-Hull Transducer. Capable of producing high-frequency and low-frequency bands, the B275LH-W Transducer supports dual frequencies so you can achieve superior resolution and great deep-water performance for clearer coverage underneath your boat.
Features:
Depth and fast-response water-temperature sensor
1 kW for great deep-water performance from the low frequency
Bronze transducer housing with high-performance fairing block for optimal performance at speeds over 30 knots (34 mph.)
Covers popular fishing frequencies of 50 and 200 kHz plus everything else in the bandwidth
Low frequency: 42 to 65 kHz

25° to 16° beamwidth
Maximum depth of 914 m (3,000')

High frequency: 150 to 250 kHz

Ideal choice for both inshore and pelagic fishing, where resolution and maximum coverage under the boat are essential down to 152 m (500')
25° constant beamwidth
Maximum depth of 152 m (500')

123 kHz of total bandwidth from one transducer
High frequency delivers superior shallow-water performance, bottom detail, and fish-target separation
High wide beamwidth yields more coverage for detecting fish in the upper-water column
Exclusive Xclusiv® ID technology

Automatic configuration of echosounder to transducer - enables the echosounder to adapt to the transducer connected, providing an optimized system
Continuous monitoring of ceramic operating temperatures
Transducer profile information can be presented on the OEM echosounder display

12-Pin cable end for use with compatible Furuno sounders
Specifications:
Low frequency: 42 to 65 kHz
High frequency: 150 to 250 kHz
Fixed beam width: 25° for all frequencies
Recommended boat length: 8 m (25') and above
Hull material: Fiberglass or wood
Hull deadrise: Up to 20° with fairing block
Acoustic window: Urethane
Transducer element: Eight internal broadband ceramic assemblies
Hole diameter: 33 mm (1 5/16")
Cable end connection: 12-Pin Furuno
Weight: 7.3 kg (16 lbs)
Note: Includes mounting hardware.
Airmar Thru-Hull Depth Transducer Owner's Guide and Installation Instructions High-Performance Fairing Installation Instructions
Part Numbers for Airmar B275LHW Wide-Beam Chirp-Ready Thru Hull Transducer - 12-Pin Furuno - B275C-LHW-12F