Adventure Medical Kits Ultralight & Watertight Medical Kits Kit - 0125-0290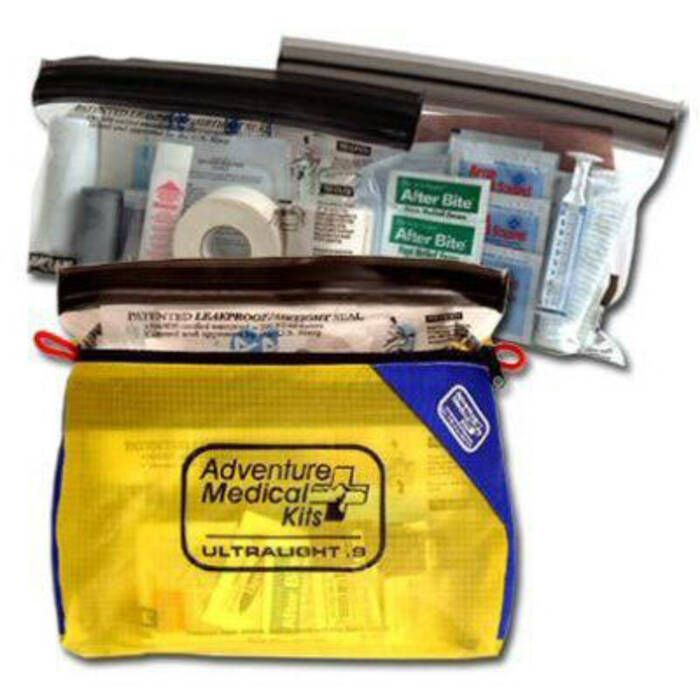 Adventure Medical Kits Ultralight & Watertight Medical Kits Kit - 0125-0290
Item # 859777
Description
Most of us don't like medical emergencies but all vessels should be equipped for them. The size of the kit, and it's components, should be based on how many people will be aboard, where you are going and how long you will be gone, and how long it will take to reach professional medical care.
Features:
The Adventure Medical Ultralight & Watertight Medical Kit .9 has been tested, abused and approved by adventure racers in the Eco Challenge, Primal Quest and Raid Galoiuses
This is your first aid kit if you are a multi-sport enthusiast who actively hikes, kayaks, mountain bikes, climbs or does other activities on a regular basis
The Adventure Medical Kits Marine Series developed with Dr. Michael Jacobs are the most complete, well thought-out medical kits ever developed for mariners
Whether you are sailing around the world or in your local lake, Adventure Medical Kits has the perfect kit for your adventure
Featuring the Easy Care first aid system, the components are organized in color coded compartments by injury with Easy Care Instructions inside
The Easy Care System helps you find what you need quickly and keep the items you don't need clean and dry
The Adventure Medical Ultralight & Watertight Medical Kit .9 is designed for life in the bottom of a pack
The zippered nylon pouch has two inner Aloksak® pouches to ensure contents are kept clean and dry
Contents Include:

Wound irrigation system to clean and close wounds
Medication for diarrhea, inflammation, allergic reactions, bee stings and insect bites
Trauma pad and compression bandage for bleeding
Moleskin dressing for preventing and treating blisters
Swift wrap elastic bandage with Velcro
Supply List: (Provided by Manufacturer)
(5) Bandage, Adhesive, Fabric, 1" x 3"
(3) Bandage, Adhesive, Fabric, Knuckle
(1) Bandage, Conforming Gauze, 3"
(1) Bandage, Elastic, Self Adhering, 2"
(2) Bandage, Stockinette Tubular, 1" x 4"
(2) Dressing, Gauze, Sterile, 2" x 2", (Package of 2)
(3) Dressing, Gauze, Sterile, 3" x 3", (Package of 2)
(2) Dressing, Non-Adherent, Sterile, 3" x 4
(1) Pair of Gloves, Nitrile (Pair), Hand Wipe
(1) Trauma Pad, 5" x 9"
(22) Moleskin, Pre-Cut & Shaped
(1) Duct Tape, 2" x 100"
(3) Safety Pins
(1) Splinter Picker/Tick Remover Forceps
(2) Antihistamine (Diphenhydramine 25 mg)
(6) Diamode (Loperamide HCI 2 mg), (Package of 1)
(4) Ibuprofen (200 mg), (Package of 2)
(2) Aloksak Waterproof Bag, 6" x 9"
(6) "After Cuts & Scrapes" Anesthetic/Antiseptic Wipe
(1) Cotton Tip Applicator, (Package of 2)
(1) Syringe, Irrigation, 10 cc, 18 Gauge Tip
(1) Tape, 1" x 10 Yards
(1) Tincture of Benzoin Topical Adhesive, Vial
(3) Triple Antibiotic Ointment, 1/32 oz packets
(1) Package of (10) Wound Closure Strips, 1/4" x 4"
Adventure Medical reserves the right to add, substitute, or delete items if necessary
Users:
Boaters
Kayakers
Backpackers
Hikers
Bikers
Backcountry Skiers
Hunters
Campers
Pilots
Snowmobilers
EMTs
Search & Rescue ( SAR )
RVs
Off Roading
Note: Some medications may not be available in products sold outside of the US, additional items may be substituted
WARNING
---
This product can expose you to chemicals which are known to the State of California to cause cancer, birth defects or other reproductive harm.
For more information go to www.p65warnings.ca.gov.
Part Numbers for Adventure Medical Kits Ultralight & Watertight Medical Kits Kit - 0125-0290