Adventure Medical Kits Trauma Pak with QuikClot - 2064-0292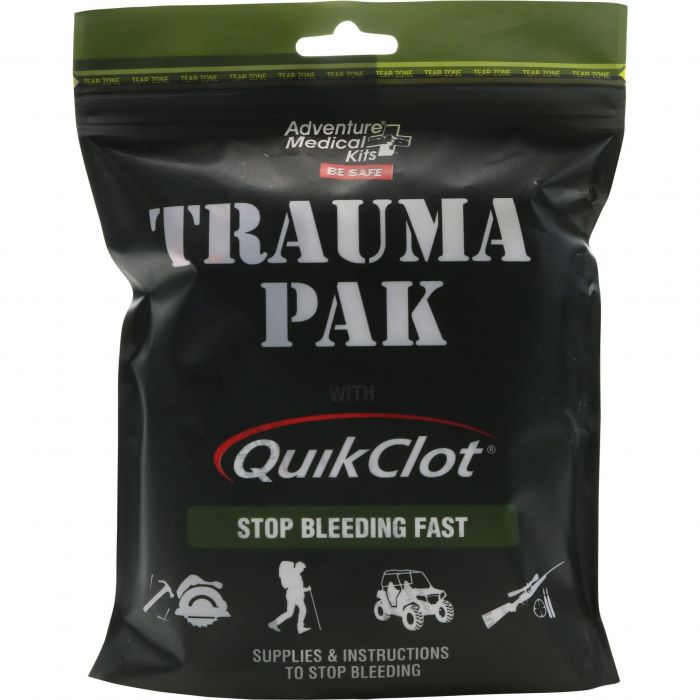 Adventure Medical Kits Trauma Pak with QuikClot - 2064-0292
Item # 963833
Description
Act fast to provide immediate trauma care with this Trauma Pak which contains key supplies to control bleeding at the scene. This essentials-only trauma pack contains Adventure® Medical Kit's QuikClot, a hemostatic dressing that stops bleeding three times faster by accelerating your body's natural clotting process with zeolite. In addition to the hemostatic dressing, this pack includes a combine pad, triangular bandage, and gauze dressings to help control the bleeding and duct tape to hold it all in place.
Features:
Contains the essentials you need to treat trauma in a quick-to-deploy format

Inside, you'll find a QuikClot® Advanced Clotting Gauze, trauma pad, triangular bandage, sterile gauzes, and other key supplies

Control bleeding with QuikClot® hemostatic gauze, which acts on contact to stop bleeding five times faster
Gauze impregnated with kaolin, a mineral that accelerates your body's natural clotting process
One-page guide lists life-saving trauma care instructions, including how to apply a tourniquet, stabilize fractures, etc.
Trauma Pak weighs only 4.4 oz - keep one in your glove box, range bag, backpack, first responder kit, and everyday carry bag so you're prepared when trauma occurs
Re-sealable DryFlex™ bag is completely waterproof and incredibly durable
Specifications:
Size: 6.5" x 4.75" x 1.5"
Weight: 4.4 oz
Group size: 1 Person
Trip duration: 1 Day
Includes:
Bandage materials
(1) Bandage, conforming gauze, 3"
(1) Dressing, gauze, sterile, 2" x 2", pkg./2
(1) Dressing, gauze, sterile, 4" x 4", pkg./2
(1) Duct tape, 2" x 26"
Bleeding
(1) Gloves, Nitrile (Pair), hand wipe
(1) QuikClot gauze 3" x 2'
(1) Trauma pad, 5" x 9"
Fracture/sprain
Wound care
Medical information
(1) Trauma and Accident Management instructions
Part Numbers for Adventure Medical Kits Trauma Pak with QuikClot - 2064-0292