Adventure Medical Kits Trauma Pak Pro with QuikClot & Torniquet - 2064-0293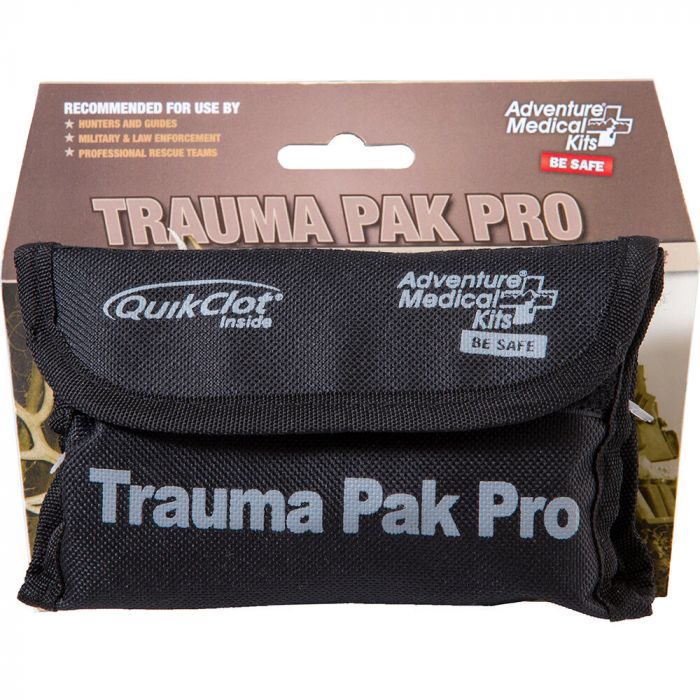 Adventure Medical Kits Trauma Pak Pro with QuikClot & Torniquet - 2064-0293
Item # 963834
Description
The Trauma Pak Pro takes bleeding control to a new level with two products designed to control bleeding. The QuikClot® Advanced Clotting Gauze is a hemostatic gauze that stops bleeding five times faster. You simply apply QuikClot over bleeding areas to speed clotting. The AMK Trauma Tourniquet is engineered for use in the field and allows a rapid means to control extremity bleeding, quickly and easily.
Features:
Control bleeding with QuikClot® hemostatic gauze, which acts on contact to stop bleeding five times faster
Gauze impregnated with kaolin, a mineral that accelerates your body's natural clotting process
Designed for fast deployment in critical situations
Nitrile examination gloves plus biohazard disposal bag
Easy for anyone to use without advanced training
Instruction sheet with information on managing life-threatening and traumatic injuries
Specifications:
Size: 5.5" x 4" x 1.5"
Weight: 8 oz
Group size: 1 Person
Trip duration: 1 - 2 days
Includes:
Bleeding
(1) QuikClot gauze 3" x 2'
(1) Adventure Medical® trauma tourniquet
(1) Gloves, Nitrile (pair), hand wipe & disposal bag
(1) Trauma pad, 5" x 9"
Duct tape
Medical information
(1) Trauma Response instructions
Part Numbers for Adventure Medical Kits Trauma Pak Pro with QuikClot & Torniquet - 2064-0293