Adventure Medical Kits Sportsman 400 First Aid Kit - 0105-0400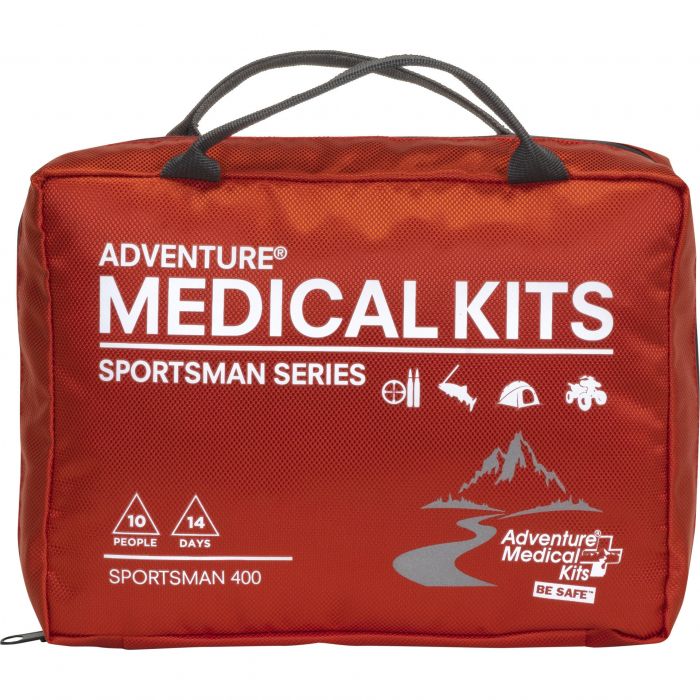 Adventure Medical Kits Sportsman 400 First Aid Kit - 0105-0400
Item # 963839
Description
Lead your group far afield on hunting, fishing, snowmobiling, or ATV trips knowing you're prepared if accidents occur. Well-stocked to treat serious injuries far from medical care, the Sportsman 400 medical kit contains enough first aid supplies for ten people headed into the backcountry for up to two weeks. This wilderness first aid kit sets the standard in care with hospital-quality contents like a tourniquet, C-Splint™, and trauma dressing for treating injuries and illnesses ranging from knife cuts to penetration wounds.
Features:
Lightweight, waterproof trauma pack with supplies to stop severe bleeding and administer CPR
Stop life-threatening bleeds quickly in the field with the easy-to-use trauma tourniquet and trauma dressing
External kit map shows where supplies are located, while the reflective design helps you find the kit quickly at night
First aid supplies are organized into injury-specific pockets that make it possible for anyone to confidently administer first aid
Stabilize fractures with the flexible C-Splint™, protect burns by applying a petrolatum dressing, and care for wounds using an irrigation syringe, wound closure strips, and tinctures of benzoin
Know how to treat injuries experienced while hunting, fishing, or snowmobiling - written by Eric A. Weiss, MD, this book includes over 50 – improvised techniques and 100 illustrations for treating outdoor injuries and illnesses
Specifications:
Size: 11" x 8" x 3"
Weight: 2.5 lbs
Group size: 1 - 10 people
Trip duration: 1 - 14 days
Includes:
First aid manual
(1) Wilderness & Travel Medicine: A Comprehensive Guide
Cuts/scrapes
(10) Easy access bandages®, fabric, 1" x 3"
(10) Easy access bandages®, fabric, knuckle
(3) Triple antibiotic ointment
(12) Antiseptic wipe
(6) Alcohol swab
(2) Tincture of benzoin
Wound care
(1) Wound Irrigation Tool, 20cc
(10) Wound Closure Strip, 1/4" x 4"
(6) Sterile Gauze Dressing, 4" x 4"
(6) Sterile Gauze Dressing, 2" x 2"
(2) Sterile Non-Adherent Dressing, 3"x 4"
(2) Gauze Bandage, 3"
(1) Cloth Tape, 1" x 10 Yards
(4) Nitrile Glove
(2) Cotton Tip Applicator
Fracture/sprain
(1) C-Splint™, 36" x 4"
(1) Elastic bandage, 3"
(1) Self-adhering bandage, 2"
(2) Triangular bandage
(1) Duct tape, 2" x 50"
Medication
(3) Thermometer, single use
(3) After Bite® wipe
(4) Diamode (Loperamide HCl 2 mg.)
(8) Aspirin (325 mg.)
(16) Ibuprofen (200 mg.)
(8) Acetaminophen (500 mg.)
(4) Antihistamine (Diphenhydramine 25 mg.)
Field trauma pak (removeable)
(1) Tourniquet
(1) Trauma bandage
(1) Trauma pad, 5" x 9"
(4) Sterile gauze dressing, 4" x 4"
(1) Petrolatum dressing, 3" x 3"
(2) Nitrile glove
(1) EMT shears, 4"
(1) CPR face shield
(1) Splinter/tick remover forceps
(28) Moleskin pre-cut/shaped
(3) Safety pin
(1) Pencil
(1) Patient assessment form
Part Numbers for Adventure Medical Kits Sportsman 400 First Aid Kit - 0105-0400