ACR OLAS Tag Wearable MOB Crew Tracker
$94.95 - $299.95
$67.86 - $273.68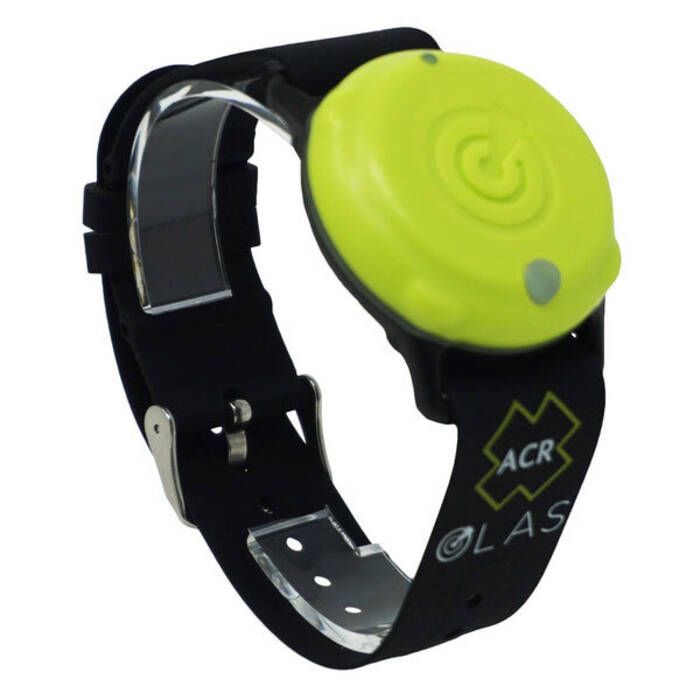 ACR OLAS Tag Wearable MOB Crew Tracker
Item # 922979
Description
The ACR OLAS Tag is a Wearable Crew Tracker that integrates OLAS (Overboard Location Alert System) technology. The ACR OLAS mobile application technology detects a break in its 'virtual tether' to the tag within 8 seconds of a Tag going missing. The mobile phone(s) then sounds an alarm and records the latitude and longitude of the incident using the phone or tablet's GPS. ACR OLAS then aids the crew with the MOB recovery, directing them to the GPS location of the MOB event with visual signals and bearing data. ACR OLAS stores all location data and time of incident required by rescue services.
Activate Solo mode on the app (2G phone signal required) when boating alone and the OLAS app will automatically text message your emergency contact with your GPS coordinates.
Users can track up to 6 different OLAS Transmitters with 1 phone/tablet and each individual OLAS Transmitter can be tracked by an unlimited number of phones/tablets. If you want to track more OLAS Transmitters, add the ACR CORE base station or Guardian Engine Kill Switch and scale your system to monitor up to 15 OLAS Transmitters.
The ACR OLAS Tag can easily attach to adults, children, pets and objects such as overboard flotation devices or Personal Locator Beacons. Each tag is supplied with a universal silicone wrist strap with stainless steel buckle and a pre-installed CR2477 Battery (user replaceable).
Start small or go big, the ACR OLAS is the only solution that can scale to meet your boating needs. The range of the ACR OLAS transmitters allows for coverage on vessels up to 40 ft in length. However, the transmitter is part of a larger scalable ecosystem of ACR OLAS products (transmitters and receivers) that offer additional safety features and can be combined to track large crews on larger vessels. You can even ditch your phone and utilize your ACR OLAS Tag with the OLAS Guardian Engine Kill Switch or OLAS Core Base Station as part of a more permanent solution.
Features:
ACR OLAS Free Mobile App Integration
Versatile Attachment Solution (Wrist worn, life jacket, dog collar, attach to Personal Locator Beacon)
Bluetooth® 4.1 Compatible
Waterproof (IP 67)
Includes universal silicone wrist strap with stainless steel buckle and pre-installed CR2477 Battery (user replaceable)
Low Battery Indicator Light
3,500 Hours Per Battery When Armed
Specifications:
Size:

Tag Size: 1.81 (L) x 1.38 (W) x 0.60 (D) inches (46 (L) x 35 (W) x 15 (D) mm)
Strap size: 10.87 (L) x 0.88 (W) x 0.04 (D) inches (276 (L) x 22 (W) x 1 (D) mm)

Weight: 0.7 oz (20g) (without strap)/1.06 oz (30g) (with strap)
Color: ACR-Treuse
Operation: Manual Activation or Automatic Activation via proximity sensing
Runtime (hours): High 4 months or 3,500 hours Continuous (in Armed Mode)/Power off to conserve battery when not in use
Battery: CR2477 Lithium-Ion (User Replaceable)
Battery Life Indicator: LED Indicator
MOB System: Track up to 6 different OLAS transmitters with 1 phone/tablet. OLAS Transmitters can be tracked by an unlimited number of phones/tablets (Bluetooth 4.1 Compatible)

The ALARM sounds within 8 seconds of a Man Overboard situation
The system records the MOB location using your phone/tablets GPS and directs the boat back to the last known location for a quick and easy recovery
Compatible with the ACR OLAS Guardian Engine Kill Switch, CORE Base Station, and Extender

Mobile App: IOS and Android (Free Download)

Connect multiple OLAS transmitters to 1 phone or tablet
Connect 1 OLAS transmitter to multiple phones/tablets
Solo Mode (Text Message Alerts to Emergency Contacts with GPS coordinates)
App Navigation: SOG, COG, Bearing to Waypoint, Course to steer, and Compass
Download the ACR OLAS App on the App store or get it on Google Play: Search 'ACR OLAS'

Range:

For use with vessels up to 40 feet (12 meters)
Extend the coverage range on larger vessels with the ACR OLAS CORE, GUARDIAN and EXTENDER product family

Scalability:

Upgrade your system with the ACR OLAS Guardian (Base Station with Alarm and Engine Kill Switch), ACR OLAS CORE (Base Station with Alarm), and ACR OLAS Extender (extends range of your MOB system from a vessel size of 40 ft up to 100 ft)

Buoyant: No
Waterproof: Yes (IP67)
Approvals: FCC, RED, CE
WARNING
---
This product can expose you to chemicals including di(2-ethylhexyl)phthalate (DEHP) which are known to the State of California to cause cancer, birth defects or other reproductive harm.
For more information go to www.p65warnings.ca.gov.
Part Numbers for ACR OLAS Tag Wearable MOB Crew Tracker