ACR Olas Guardian Wireless Engine Kill Switch and Man Overboard Alarm System - 2985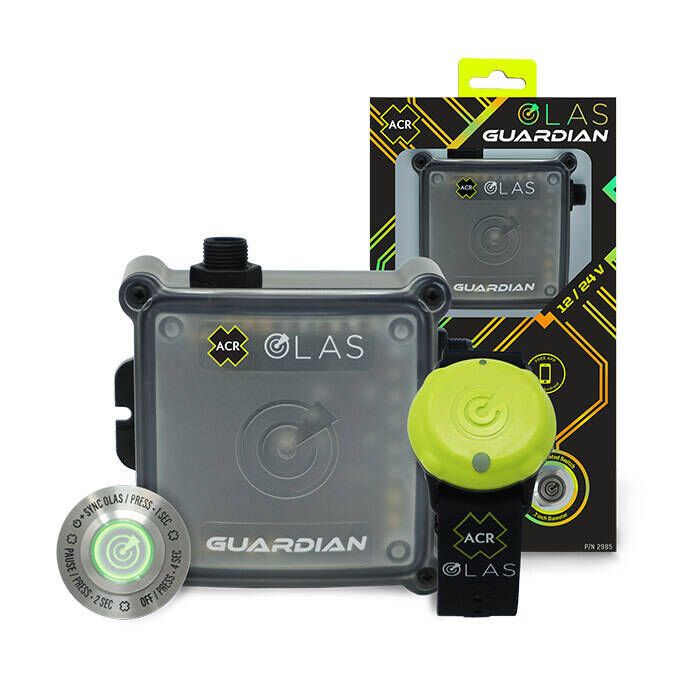 ACR Olas Guardian Wireless Engine Kill Switch and Man Overboard Alarm System - 2985
Item # 859572
Description
The ACR OLAS Guardian is a dual function, small wireless engine kill switch that acts within two seconds of a person going overboard. OLAS Guardian offers powerboat, motorboat, and RIB drivers the security of knowing that their boat will stop in an instant, should the skipper or crew get separated from the boat; reducing the chances of a serious accident from a loose, unmanned, uncontrolled vessel.
Features:
For use in place of or alongside an existing kill cord switch
Will operate if the physical kill cord has not been attached to the driver
Ultra-bright red LED visual alarm to indicate an alert, also acts as a light to illuminate the surrounding area
85 dB audible alarm will sound to indicate an OLAS transmitter has gone out of range
Connect up to 15 ACR OLAS transmitters
Utilizes the latest Bluetooth® 5.0 Technology
Can be connected to your vessel's 12/24V power supply to ensure it is always connected when you have the power running
Color-coded control switch
After 5 seconds the kill switch is deactivated, enabling the engine to be restarted
Individual relay selection for easily adjusting if the OLAS transmitter triggers the engine cut-off/relay, or only triggers the Guardian's inbuilt MOB alarm
Automatic connection
No connection alert and override
Pause mode, used when you need to leave the boat with the engine idling, such as walking down a pontoon, knowing the OLAS transmitter will go out of range
Run alongside existing Kill switch makes the system easy to control and setup, without the need for the OLAS App
For use with vessels up to 50 feet (12 meters)

Extend the coverage range on larger vessels with the ACR OLAS EXTENDER for coverage on boats up to 80 feet (Sold separately)

Easily operated via the OLAS Mobile APP, which enables how long it should take before an engine is shut off
Mobile APP - IOS and Android (Free Download)

Connect multiple OLAS transmitters to 1 phone or tablet
Connect 1 OLAS transmitter to multiple phones/tablets
Solo Mode (Text Message Alerts to Emergency Contacts with GPS coordinates)
Specifications:
For use with vessels up to 50 feet (12 meters)
Dimensions: 3.6" (H) x 3.5" (L) x 1.5" (W)
Weight: 3.9 Ounces
Color: Black and clear
Operation: Press button once to turn on, all tags within 2 meters are tracked
Maximum number of connected OLAS transmitter: Connect up to 15 OLAS transmitters (OLAS tags and/or OLAS float-on)
Power/current: 10-32V/13-17mA
Visual alarm: Red LED/55 lumens
Audible alarm: 85 Decibels
Automatic restart: After 5 seconds
Automatic connection: Automatically connects to any activated OLAS transmitter within a 2 meter range
Relay selection: Use the OLAS APP to select which crew members transmitters should trigger the engine cut off, or only trigger the Guardians built-in alarm
Buoyant: No
Waterproof: Yes (IP67)
Housing material: ABS
Fuse: 1-3 Amp fuse recommended (Sold separately)
Bluetooth®: 4.2 + 5.0
Applications: Recreational and commercial boating
Accessories (Included): ACR OLAS Tag, Power Connection Cable, Kill Switch Cord Connector, and Stainless Steel Control Switch
Approvals: FCC, RED, CE, RoHS 2.0
ACR Olas Guardian Wireless System Manual (1.41 MB)
WARNING
---
This product can expose you to chemicals including di(2-ethylhexyl)phthalate (DEHP) which are known to the State of California to cause cancer, birth defects or other reproductive harm.
For more information go to www.p65warnings.ca.gov.
Part Numbers for ACR Olas Guardian Wireless Engine Kill Switch and Man Overboard Alarm System - 2985