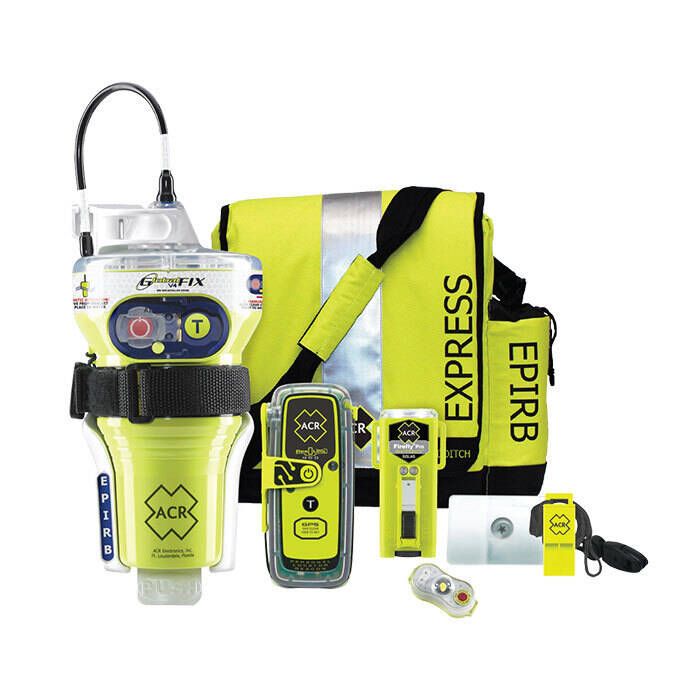 ACR GlobalFix V4 + PLB-400 Kit - 2349
Item # 859568
Description
The GlobalFix V4 Survival Kit is an important addition to expeditions of all types, from leisure boating and deep-sea fishing to sailing and jet-skiing and land-based adventures as well. Should you run into an unexpected situation, have peace of mind knowing that the GlobalFix V4 Survival Kit gives you everything you need to ensure a safe return.
Package Includes:
GlobalFIX V4 Cat. 2 EPIRB
ResQLink 400 Personal Locator Beacon
Firefly PRO Waterbug
Signal Mirror
WW-3 Res-Q Whistle
HemiLight 3
RapidDitch Express Bag
GlobalFix V4 EPIRB Features:
Activation Method: Manual
Frequency: 406 & 121.5 MHz
Operational life: 48 Hours
Floats: Yes
Built-In Strobe: Yes
Battery replacement: 10 Years
ResQLink 400 Personal Locator Beacon Features:
With three levels of integrated signal technology GPS positioning, a powerful 406 MHz signal, and 121.5 MHz homing capability the ResQLink 400 quickly and accurately relays your position to a worldwide network of search and rescue satellites. Additionally, a built-in strobe and infrared strobe facilitate nighttime or other low-visibility rescues.
No subscription required
GPS and Galileo GNSS
Built-in buoyancy
Strobe and Infrared Strobe
Global coverage
MEOSAR Compatible
Small and lightweight
5-Year battery life
24+ hours operating life
Multi-function clip system included
Based on test report from accredited laboratory
Firefly PRO Waterbug Features:
Emergency Distress Strobe Light: The Firefly PRO Waterbug is a SOLAS-approved strobe light with a built-in water activation feature that will automatically activate once submerged. The LED produces a 360° beam of light that is over 41 candelas bright, allowing for visibility of over 3 miles.
With the all-new microprocessor and energy efficient electronics, the Firefly PRO operates continuously for over 56 hours.
HemiLight 3 Features:
Automatic Survivor Locator Light: The ACR Auto HemiLight 3 flashing survival light attaches to almost any style life jacket quickly and easily. Smaller than other approved lights, the HemiLight 3 features rounded edges to maintain the integrity of inflatable life jackets and meets USCG, MED and SOLAS requirements.
The high-intensity flashing LED light automatically activates for 20+ hours when it comes in contact with salt or fresh water, and can be deactivated simply by pushing the red button. Attachment loops accommodate up to 5 cm (2 in) wide webbing, and the marine-tough design ensures years of useful service.
GlobalFix V4 EPIRB Specifications:
Model Number: RLB-41
GPS: Internal GPS (66 Channel)
Battery Class: 2 (non-hazmat) lithium battery (user replaceable) - LiMnO2 (P/N 1104)
Battery Replacement: 10 year user replaceable battery (replace 10 years after date of manufacture or after activation)
Material: High impact UV resistant polymer
Strobe: 4 LED Array Strobe Light
Deployment: Category I - Hydrostatic release (auto) or Manual, Category II - Manual release
Activation: Out of bracket and wet, or manually in or out of bracket
Waterproof: 33' (10 m) for 5 min
Output Power: 5W +/- 2dB (406.037 MHz); 50 mW +/-3dB (121.5 MHz)
Operational Life: 48 hours minimum @ -4° F (-20° C)
Typical Performance: +48 hrs. @ -4° F (-20° C); Longer in higher ambient temperature
Operating Temp.: -4° F to +131° F (-20° C to +55° C ) (Class 2)
Storage Temp.: -22° F to + 158° F (-30° C to +70° C)
Accessories (Sold Separately): SeaShelter™ 4 (P/N 2832), QuickDraw™ V4 (P/N 2833), Cat I HydroFix™ HRU (P/N 9490.1)
Approvals: Cospas-Sarsat, FCC, MED (Pending), IC Acceptances: USCG Meets: GMDSS, RTCM, IEC, and IMO standards
406Link.com: 120 satellite detectable basic self tests (available only in the Americas)
Size (No antenna): 8.13" (H) X 4.28" (W) (20.7 X 10.9 cm)
Weight (with bracket): Category I - 66.10 oz (1874 g)/Category II - 34.92 oz (990 g)
Weight (Beacon only): 27 oz (764 g)
ResQLink 400 Personal Locator Beacon Specifications:
Product Description Buoyant Personal Locator Beacon without Digital Display
Model Number PLB-400
Application: Hiking, camping, rock climbing, snow mobiling, skiing, fishing, boating, canoeing, kayaking, paddle boarding etc
Battery: Non-hazmat Lithium batteries (LiMnO)
Class: Class 2 Operation (at -4° F/-20° C)
GPS: Multi-Constellation receiver (GPS and Galileo GNSS)
Temperature Range Storage: -22° F to +158° F (-30° C to +70° C) Operating: -4° F to +131° F (-20° C to +55° C)
Battery Replacement: After 5 years or after emergency use, whichever is first
Activation: Manual
Buoyant: Yes
Operational Life: 24+ hours
Waterproof: 16.40 ft (5m) @ 1 hr., 33 ft (10m) @ 10 min
Approvals: Cospas-Sarsat, FCC, Europe RED
Size: 4.52" (L) x 2.03" (W) x 1.49" (D) 11.48 cm (L) x 5.16 cm (W) x 3.78 cm (D)
Weight: 0.33 lbs (148 g)
Firefly PRO Waterbug Specifications:
Operation: Manual ON/OFF switch and Water Activation
Waterproof: Factory tested to 33' (10 m)
Lamp: Cool white LED
Strobe Intensity: 41 candela (strobe)
Strobe Visibility: Over 3 miles
Strobe Flash Rate: 60 P/M +/-
Strobe Operation: 56 hours
Certification: SOLAS, USCG, MED, TSO-C85b, IMO LSA, CE
Size: 4.4" x 2.2" x 1.2"/11.7 x 5.7 x 2.8 cm
Weight: 2.39 oz (68 g) (without batteries)
HemiLight 3 Specifications:
Model Number HL3
Battery: Non-hazardous lithium. 5 year life (non-replaceable). Meets DOT and IATA rules for safe transport
Material: Polycarbonate
Activation: Automatic when in contact with water (fresh or salt), deactivate via manual off button
Waterproof: Water tight to 10' (3 m). Meets IMO standard
Beam Angle: All directions of the upper hemisphere
Operational Life: Exceeds 8 hr. requirement, typically 20+ hours
Operating Temperature: +30° F to +86° F (-1° C to 30° C)
Stowage Temperature: -22° F to + 149° F (-30° C to +65° C)
Approvals: USCG SOLAS, MED SOLAS
>Size: 2.44" x 1.19" x 1.13" (6.19 x 3.02 x 2.87 cm)
Weight: 0.98 oz (28 g)
WARNING
---
This product can expose you to chemicals including di(2-ethylhexyl)phthalate (DEHP) which are known to the State of California to cause cancer, birth defects or other reproductive harm.
For more information go to www.p65warnings.ca.gov.
Part Numbers for ACR GlobalFix V4 + PLB-400 Kit - 2349